Buy Best Screen Printing Raw Materials
Today screen printing technology is being used adequately worldwide initially, Screen Printing on T-Shirts first time started in China. but now it is done on almost all types of products. This technology is also known as "serigraphy". Printing on smaller-size products is usually done manual or semiautomatic. Bigger size and bulk production fully automatic process is better option.
Screen Printing Technology works with the concept of pressing ink on the substrate through silk mess, this process is involved with rigid rectangle frame, silk screen mess, stencil, photo emulsion, squeegee & ink.
Typically, screen printing is done for low and high-print run. It is a kind of replicated printing process on various types of materials like wood, glass, metal, plastic, fabric, paper, etc. You can print round and flat substrates.
Ink adhesion & print quality is based on the physical & chemical properties of the substrate and using ink. For example, the screen printing ink used for paper, cloth, and plastic are different characteristics.
used for It may be you are practicing a screen printing business from a remote area you can buy the best screen printing kit & raw materials at the online shopping portal amazon. Even if it is a photo emulsion, ink cleaning chemical, or squeezed. and different types of ink used for printing on various quality stuff.
Looking for screen printing tips & tricks.
Choose The Best Recommended Raw Materials
Choosing the right screen printing raw materials to make your productivity high, and profitable business. Quality materials also help to decline the wastage of materials & manpower.
1. Screen Printing Frame
Pros
Polyester
QUALITY WOOD FRAME – Smooth, hardwood frame
EXCELLENT DURABILITY – Easy to reclaim the screen after each use
Speedball art products-110 monofilament screen. Smooth hardwood frame securely fastened together. Screen fabric is cord-locked in grooves and can be tightened or replaced. Has 110 holes per linear inch. This package contains one 16×12 inch monofilament screen. Made in USA.
Screen printing frame used for stretch screen printing mess over it to making stencil over it. Usually made of wooden or aluminum. It is a hard and rectangular shape with light weight.
2. Exposer Unit
Pros
【Package】LED UV Exposure Screen Printing Light, PVC Exposure Stand and 2pcs "S" hook hang the exposure lamp
【UV Exposure Effect】The wavelength of light is 395nm, 20W UV uv light for screen printing help shorten photo emulsion curing time
【Hand Free Use Stand】Easily to mount, On/Off button switch is easy to access
【Flexible Structure】The hanging bracket is on lamp center, making lamp hold the balance
【Wide Application】This screen printing exposure light kit not only can be used for traditional screen printing, but also worked for cyanotypes
【Note】This simple UV Exposure Unit Kit is designed for personal usage in screen printing. it is easy operated that to ensure the safety of user
Nullam et nibh ac nulla commodo ultricies ac in dui. Mauris mollis leo vel nulla scelerisque lobortis. Nam ultrices dui eget suscipit euismod. Duis id metus condimentum, interdum mauris a, venenatis sapien. Mauris felis libero, ultricies vitae dolor sit amet,
The exposure unit is commonly placed in a dark place, Once the photo emulsion is properly dried out than intended design stencil to be printed is placed on the outer side frame, and the exposure unit light starts on for a limited time period.
3. Scoop Emulsion Coater
Pros
The emulsion Scoop Coater is the coating tool that used for silkscreen printing, 6 Inch Recommend for Frame Size: 9″ x 14" OD
The Dual Edges Scoop coater are designed to use for silk screen of all mesh count
Made from hard anodized aluminum with plastic end guidance caps
Plastic end caps of the scoop coater is designed for easy and comfortable handling while providing guidance to coat a smooth layer
These scoop coaters also come with two special rubber edge protectors to keep your scoop coater
Gold-Up's Dual Edge Manual Emulsion Scoop Coater is a lightweight affordable coating tool that combines accuracy and consistency to provide excellent results.

The scoop coater is designed to provide a perfect coating angle that can be controlled easily with comfortable handling.

NOTE:
Depending on the inside dimension of the screens, choose a scoop coater 1″ smaller than your screen's inside dimension.
Example: A 20″ x 24″ (17" x 21" inside diameter.) screen will only require a 16-inch scoop coater.

The dual-edge feature provides two coating options:
1. The round edge is best for lower mesh count screens; it is designed to quickly
build up the emulsion with a minimum time that you have to coat the screens
and still provide the right amount of emulsion onto the screens evenly.
2. The sharp edge is best for higher mesh count and face coats of all mesh count
screens by applying a thinner deposit of emulsion to create a smooth and even
layer.
Equal thickness coating of photo emulsion makes your file expose proper printable content even small letters of ink pass through easily. It helps to apply to coating evenly.
4. Adhesive Tape
Pallet tape is most commonly used to protect the press during the screen-
printing process. At TapeManBlue, we only offer the best products for screen
printing, including our platen masking solutions. The key to using platen tape successfully is finding a product that goes on easily, clings durably, and removes
quickly without making a mess. That's exactly what you'll find in our selection of
bulk pallet tape for screen printing — products that are easy to put on, easy to
take off and ultimately successful at doing their job. Clean removal is the most
desired feature of any pallet tape option, which is why our tape has been
designed to deliver clean removal time and again.
Pallet Tape: An Essential Tool for Screen-Printing Operations
TapeManBlue is a leading supplier of tapes for the graphics and printing industries.
Our pallet tape is part of our full line of high-quality tape products designed to help
you get your job done right. Our pallet tape for screen printing is pallet tape you
can trust.
5. Screen Printing Rubber Squeegee
Pros
✅【Soft & Durable Material】Standard squeegees: Made of high-quality rubber, feel soft, washable, reusable
✅【Standard Size】Standard squeegees: 2.4inchx1.6inchx0.2inch/6cmx4cmx0.4cm, Quantity:5 Pcs/Pack
✅【Package】You will get 5pcs standard squeegee, and it is convenient to apply different color pastes with no worry of mixing them
✅【Useful Tool】The screen printing squeegees are greatly applied to make chalk paste or ink on transfer to make it leak to the substrate for DIY hand printing
✅【Application】This squeegee is bigger than mini squeegee, so it makes easier to operate, finely suitable for both graphic and textile applications, with this practical DIY tool, you can do printing, crafting more conveniently
The right tool of choice – Screen Printing Squeegee
The screen printing squeegee is suitable for dabbing of large areas of paint and producing art. Quickly transferring and smooth chalk paste brushing is its biggest feature. Its performance of scraping ink is also not to be underestimated. Using this tool is first step to creating beauty in a new way.
Screen printing squeegee help to push the ink on the printing object evenly through a stencil created on the mess. Square edges with wooden handles or aluminum are very light in weight. The squeezes are made of high-quality silicon materials. Can be used for both water and oil-based ink.
6. Screen Printing Table
Pros
Premium Material: Screen printer is made of high-quality material and adopts advanced electrostatic spraying and electroplating
Table Type Design: The table type combination design saves space and facilitates transportation
Sturdy Structure: The mechanical stress parts are precision machined and designed with different bearings to ensure long-term stable operation and precise positioning
Spring Device: The screen printing machine has two springs to adjust the tension to adapt to different weights and keep the screen frame balanced
Wide Application: Screen printing machines can be used for clothing, pillowcases, fabrics, metals, paper, copybooks, plastics, wood, glass, ceramics, leather, and other products that require photo lithography
4 Color 1 Station Screen Printer
Easy to Clean & Large Platen & Space-saving Design
The silk screen printing kit is easy to operate and is especially suitable for monochrome T-shirt screen printing. The body made of high-quality materials is durable. The overall design is simple and space-saving. It can be used for printing on substrates that require overprinting, such as pillowcases, bags, non-woven bags, etc.

Premium Material
Table Type Design
Sturdy Structure
Spring Device
A screen printing table is a basic part of starting a screen printing business. Upon this table, you can place printing materials & screen printing frame.
Over 24 years of screen printing knowledge I want to share with you. If you have a hard time during screen printing from exposing the design to the frame, ink choosing for a specific type of stuff.
7. Screen Printing Clamp
Top Pick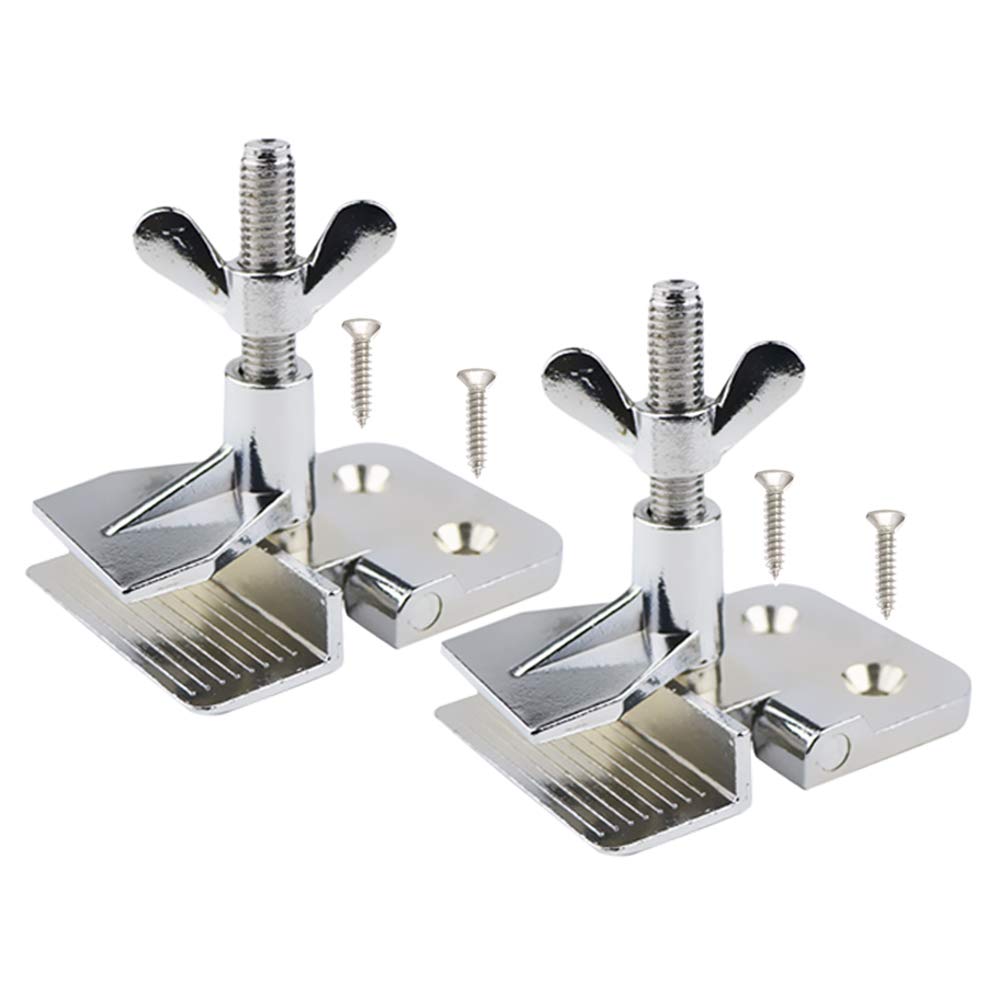 Pros
✅【???? ???????】The screen frame butterfly hinge clamp is made of fabricated from a heavy-duty zinc alloy with sturdy and durable, and long service life
✅【????????? ????????】2 pcs Butterfly Frame Hinge Clamp are perfect DIY tool for those who regard screen printing as a hobby.Very popular with starters, new beginners learn how to screen printing
✅【???? ????????????】Easy to install with screw included and offers precision control and exact registration with strong locking for perfect screen registration
✅【????? ?????】Features wide-wing thumbscrews for fastening the clamp securely to the frame and positive locking for perfect registration
✅【??????? ???????】Our hinge clamps can swing to a maximum of 90 degrees. The clamps are very sturdy and will stay in the up position between jobs
Screen printing Hinge Clamps, also called butterfly clamps, are fabricated from a heavy-duty zinc alloy. They are used for fixing screens when printing. They feature a wide-wing thumbscrew for firmly fastening the clamp to the frame. These clamps also feature positive locking for perfect registration.
Instructions: This product is used to make simple handprinting station, fixed screen version, 1 pair for small screen version, and several pairs for large screen version.
If you are a beginner looking for a screen printing setup you can setup once you buy a screen printing clamp you can set it up on your home table yourself. It is used for holding a screen printing frame during printing. Best for new bee screen printing.
8. Silk Screen Printing Mess
This kind of mesh is plain weaved polyester mono-filament yarn. The characters of this mesh contain high strength, low elongation, good tension stability, high quality, and reasonable price.
Screen Printing Mess is considered a high count thread that produces a better and smaller size test printing like letterhead, business cards, etc. Ideally, mess count comes 20-500 per square inch. Higher mess count fabric cost goes high. Silkscreen mess is made of nylon and polyester.
Printing on the T-shirt, Sunpack & Tin Plate is recommended for low-count fabrics. 25 to 30 mesh count used for thick content printing. You can buy in role form.
9. Photo Emulsion & Sensitizer
Pros
Create Highly-Detailed Screen Printing Stencils – The photo emulsion method of screen printing
No Need for a Darkroom – Speedball Diazo Photo Emulsion can be mixed
2-Step Process – To activate the Photo Emulsion, the Sensitizer needs to be added
The Sensitizer is a very thick paste and needs water to create the right consistency for adding it to the Photo Emulsion
Compatible with Most Screen Printing Inks – For use with polyester screen fabrics, Speedball's Diazo Photo Emulsion & Sensitizer
What's Included – The Speedball Diazo Photo Emulsion Kit contains (1) each of the following: 6.6oz (195ml)
Speedball Diazo Photo Emulsion Kit
You've got your design, now it's time to create your screen! At Speedball, we want to take the guesswork and frustration out of your creative process and have a suite of products to do just that–no matter what screen printing technique is your preferred method.
The photo emulsion method of screen printing offers unlimited creative potential by allowing artists to create fine line drawings, computer generated images, hand and commercial lettering and half-tone positives with excellent results. Speedball's Diazo Photo Emulsion & Sensitizer offer professional-grade results and remove the need for expensive equipment and darkrooms. (For use with polyester screen fabrics) Speedball's Diazo Photo Emulsion & Sensitizer may be used with any water-soluble or solvent-based ink and can be easily and only removed with Speedball's Photo Emulsion Remover.
To create an image on the frame mess, emulsion & sensitizer play a major role. Perfect image creation on the mess is a combination of the aspect ratio of emulsion & sensitizer. Access amount of sensitizer can make your image hard to print & a lower amount may be out emulsion from the frame during water spray on the frame.
As a professional in printing, any query related to screen printing email or call 24×7 hrs. without any hesitation.
What is the best screen printing ink?
There are various characteristics of best quality screen printing ink
– 100% Ink opacity.
– No ink bleeding
– No drying character during print.
– low volume solvent
What material product is best squeezed?
Polyurethane materials made of squeeze are the best for screen printing because end edged are made of the square they swipe the ink properly without any abrasion on the silk mesh and printing products.
What is silk mess count in screen printing?
Silk mess count is a parameter of screen printing cloth, higher count silk indicates sharper quality printing cloth and lower count for thicker ink layer in the substrate.