What is a cutting plotter?
Plotter for Vinyl Cutting
A vinyl cutting plotter is a computer-operated machine with a sharp blade cutting, used for making signage, vehicle decal, craft artwork, and vector design for heat vinyl transfer printing on the t-shirt.  Due to the booming of digital printing technology, plotter for vinyl cutting demand slightly declined in a few years but indirectly the use of vinyl cutters increased as there is a huge demand for trending personalized printed t-shirts today and for years to come.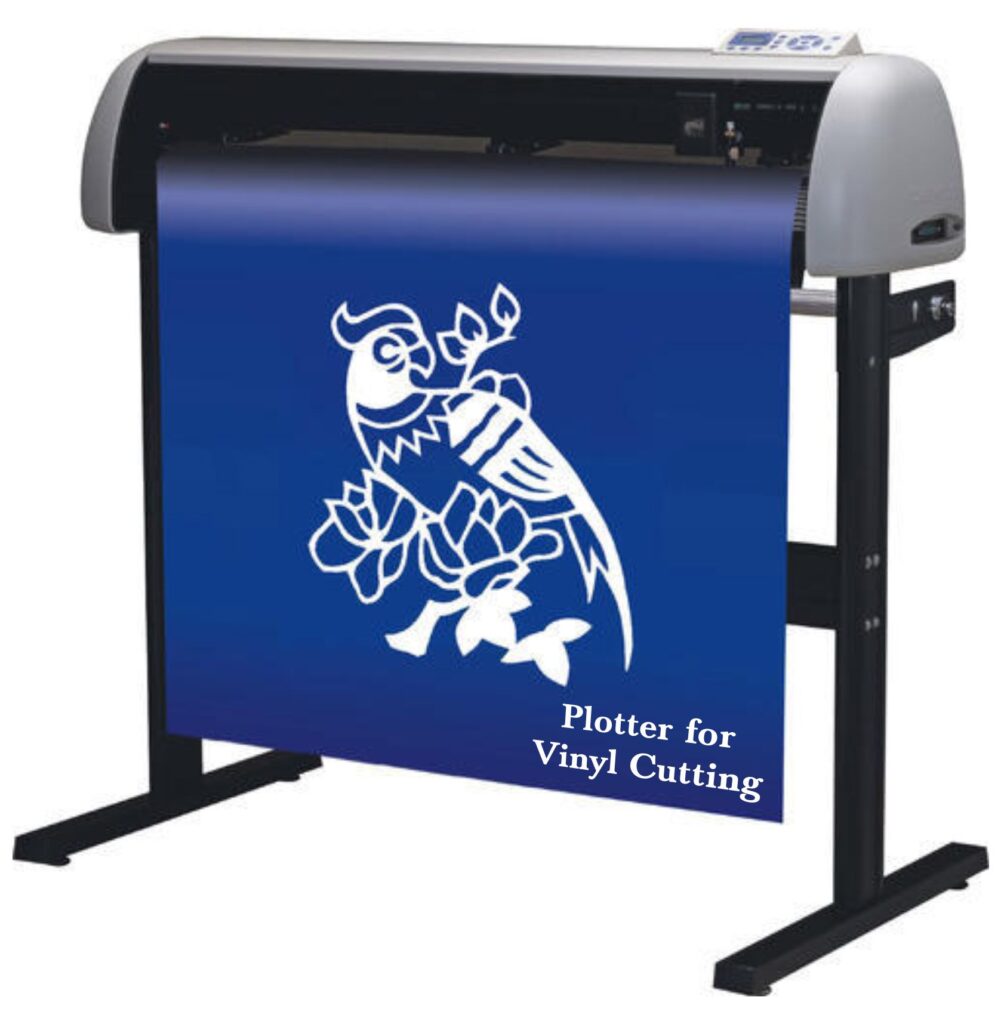 Vinyl Media – It is a plastic-made, thin layer with a backing adhesive and releases paper used as the carrier. It comes in thickness with a variation of 0.02-05 mm (80 gsm -to 130 gsm) available in various color options silver, golden, red, green, blue–etc., used for making a letter, graphics for signage, and custom design apparel.
Principle of vinyl cutting plotter machine
Vinyl cutting machines are computer-operated with touch screens that manage to cut blade speed, pressure, and position where to start cutting.
The graphic or text is converted into a vector outline with the help of a computer & software node generator. These uncounted nodes create a vector line art. By moving the cutting blade on the X and Y axis, These vector lines are cut with the stainless steel managed by the computerized blade movement, pressure, vinyl cutting speed, etc.
After cutting vector line art on the vinyl create two forms of design 1. Positive (required) 2. Negative (excess area vinyl). The access part of the vinyl is peeled off with the help of a weeding tool. Required cut vinyl is transferred onto transfer tape from the carrier sheet with the help of applying pressure.
Finally, the transfer tape with the vinyl is laid on the intended surface, and apply pressure till the entire design adheres to the substrate. Remove the transfer paper slowly from the substrate.
The blade moves on X and Y axis and underneath the vinyl backward and forward with the pressure roller. It is mandatory to the media must be backed with an adhesive that helps to keep the cut letter in the same place later on it is transferred onto the intended stuff from the release paper with the help of a carrier sheet.
Operating Equipment for Cutting Plotter Machine
It is a very simple process. Required a vinyl roll length respectively cutting machine door mate size 3 ft, 4 ft, and 5 ft. wide, cutting blade, excess vinyl peeling out tool, plotter cutting machine, and transfer tape.
Plotter for Vinyl Cutting Uses
It was a time all the signage ware made through vinyl cutting and pasting directly on the substrate and hand painting on it. Even if it is big or small signage, art design for the glass window, vehicle number plate, bike decals, and were impossible to print on the stuff. Today there are other signage-making methods like UV Printing, Lesar Engraving Laser Cutting, etc.
Today there is a huge scope of cutting vinyl for signage, vehicle, decal, and vinyl for t-shirts.
Print and cut machine make your print project faster vinyl printer.
Before buying a plotter for a vinyl cutter need to know what kinds of product you are going to manufacture and your volume.
It helps to choose the right plotter in terms of the accuracy of the end product. Vinyl cut and heat press on the fabric in detail required a high definition whereas big signage does not require big details.
Any type of stuff having backing adhesive can be cut likewise, paper stickers, heat transfer paper for t-shirts, and radium stickers for road signage. 
5 Best vinyl Cutting Plotter Brand Name
Graftech
Mimakaki
Roland
Plotter Cutting vs Dye Kiss Cut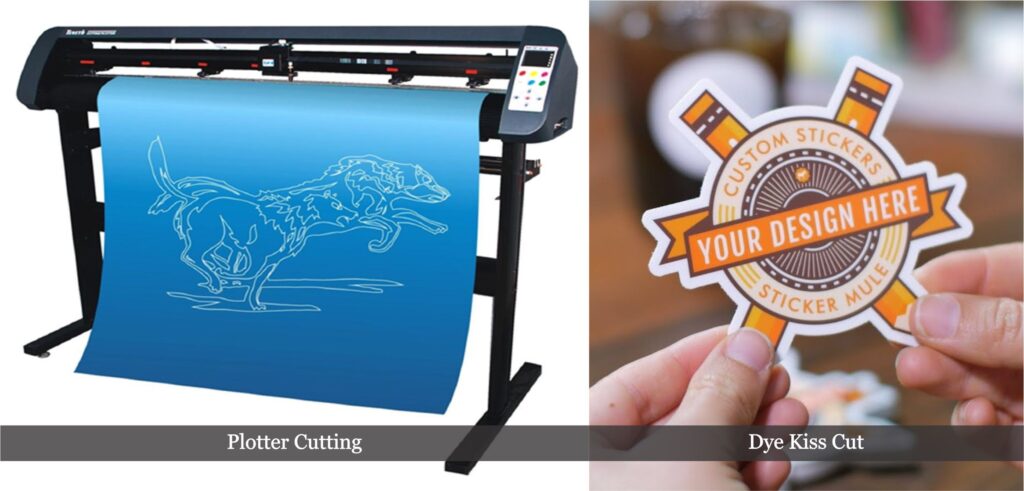 | | |
| --- | --- |
| Plotter Cutting | Dye Kiss Cut |
| 1. Plotter cutting machine is computer operated. | 1. It is operated by hand press or power press |
| 2. It is easy to cut variable data vinyl | 2. Specific content metal dye is made in a group |
| 3. Multi-Pcs can be cut at the same time | 3. It is a time taking process one time only one pcs can be cut. |
| 4. No basic setup cost | 4. It costs a basic dye-making cost and dye setup cost |
| 5. More accuracy | 5. Less accuracy, laser dye makes better accuracy |
| 6. Better for low-volume cutting | 6. Best for bulk production |
Difference Between Plotter Cutting and Dye Kiss Cut