What is foil printing & how does it affect your brand name?
"Foil is a very thin shiny or matte finish metallic layer that contains multi-layer of microfilm, the top upper side heatproof transparent PVC carrier and backside with adhesive and after fusing graphic foil on the substrate, the PVC carrier, and access foil both easily removed from the substrate"
People also search UV printing
Foil Printing Principles
There are 2 types of foil printing methods 1. Hot Foil Printing. 2. Cold Foil Printing. Both Printing applications, printing machines, end foil printing results, and printing principles are also different from each other but each printing quality is awesome in terms of customers enticing your brand name in your marketing space.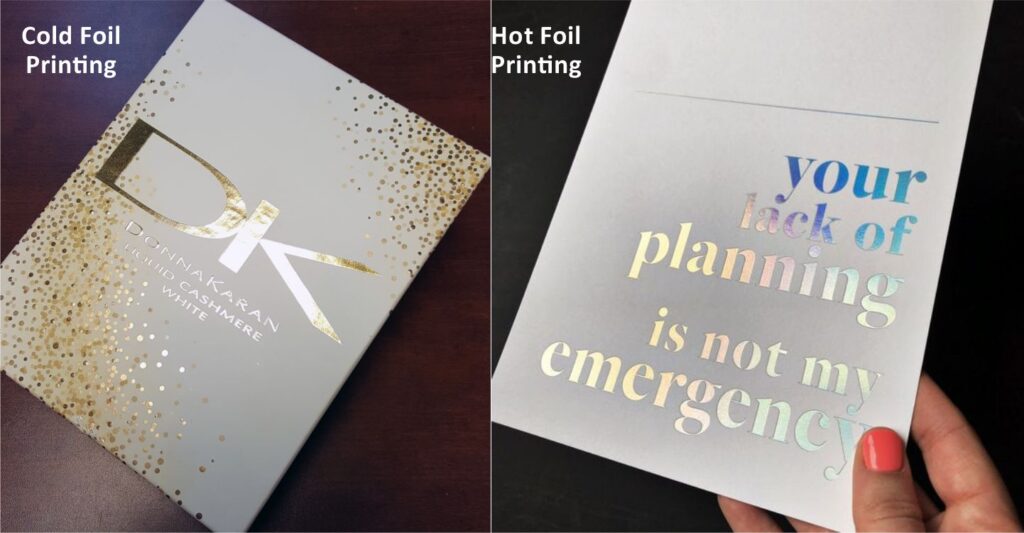 Hot Foil Printing
Hot foil printing is also known as "hot stamping" because this application is involved graphics engraved on the metal dye. This process is done by applying uniform pressure on the substrate at a specific temperature with the help of a graphic engraved metal block.
"Placing the foil between the substrate and graphic engraved metal dye at the intended position, a uniform pressure is applied from the top against the substrate placed on the bottom metal plate, due to pressure the foil is fused on the of the substrate and produce a metallic graphic on the substrate and the access foil peeled off."
Making a CNC etching/engraving dye, and heat press play a major role. Foil Deboss or Emboss required need to apply another application.
Metal Engraved Dye Making Process
Better quality engraved or etched dye produces quality foil printing. It is a crafting work that needs a skilled, experienced, and professional dye maker. We recommend a copper-metal and 5mm thick laser engrave dye work the best and last up to several times.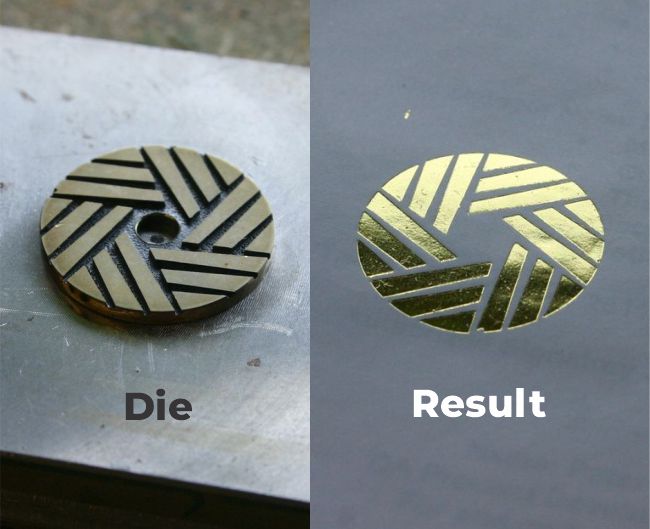 Cold foil Printing
This foil printing is the latest technology that came into service last few years back. It is a fully digital printing application it is in the liner when it comes to printing in bulk process.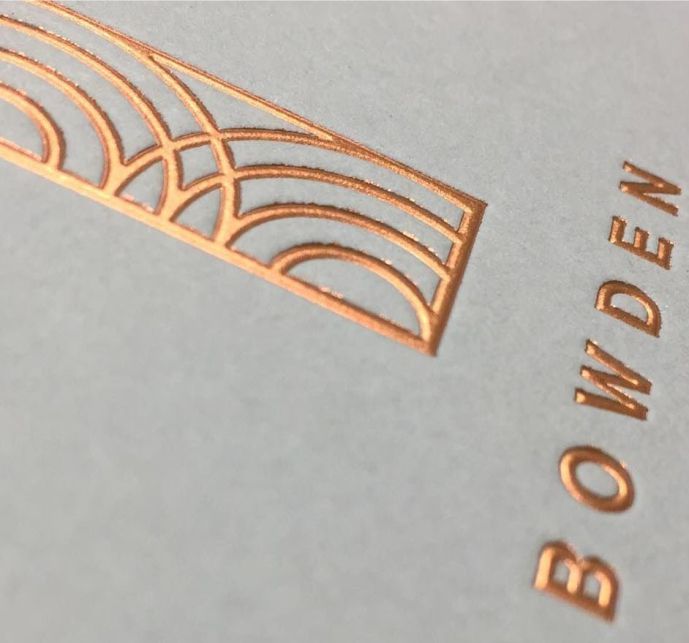 The cold foil printing principle is using a LED UV light, and Adhesive UV coating, and pressure. A digital graphic is created and printed on the substrate with an inkjet printer using UV ink then applied foil over it and passed through the pressure roller and following back UV light cures the UV ink permanently. The access foil is peeled off.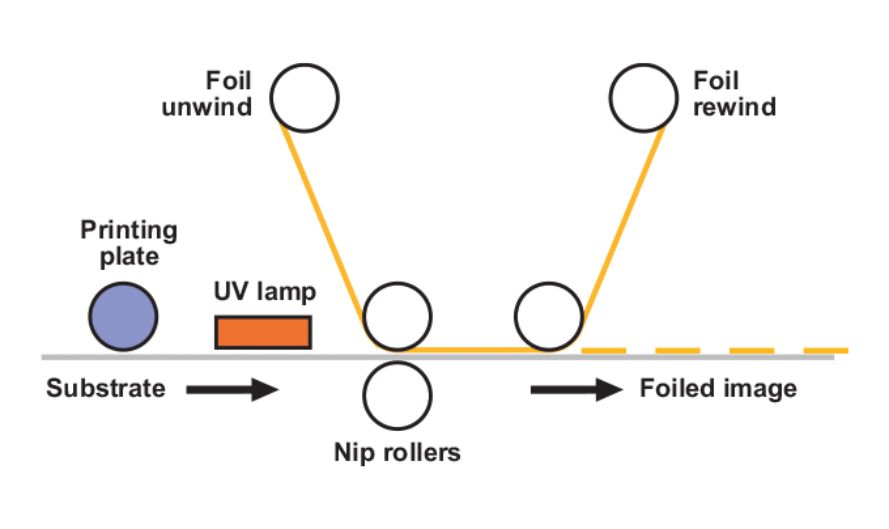 Do not require dye-making and heat application. The end product produces a raised foil
Most obvious foil printing products:
Foil Printing Main Elements:
To produce eye-catchy and sophisticated foil printed products need to be very specific to make a pinpoint quality product from design to execution likewise negative/positive, hard metal dye, CNC metal engraving/carving dye, adhesive foil rolls, etc.
Hot Stamping vs Cold Foiling
Both foil printing applications have some pros and cons. It depends on the printing project volume, end results, and price per unit cost.
| Hot Foil Printing | Cold Foil Printing |
| --- | --- |
| 1. It required a metal dye even if you have a very low volume print. | 1. Do not require making a dye. |
| 2. It is a lengthy process at least 2-3 days a min. | 2. Within a few minutes to start up foil set up |
| 3. Cheaper compare to cold foil printing for bulk printing. | 3. It is a costly foil printing method. |
| 4. Easy to print high details | 4. Bold and bigger content is better to foil print |
| 5. Embossing or de-bossing can be applied | 5. Only embossed during printing |
| 6. It is a manual and automated process | 6. Automated printing application |
| 7. Needed other media like negative /positive | 7. Digital foil is sufficient to produce cold foil printing. |
Comparison Hot Foil Printing and Cold Foil Printing
Q. Which method cold or hot is the best option?
Ans. Before choosing types of foil printing, just go for print project volume and graphics details you want to print which printing method works the best as I have above described the difference. As I am a foil printer professional I look both printing terms are good, it depends on your foil print project.
What is foil printing?
Foil Printing Uses
Foil printing is considered a premium quality of customer engaging application, dominantly applied on the luxury product packaging boxes (cream, wine, cigarette), business cards, certificates, and security stickers. Here the graphic is created onto the substrate visually look shiny or matte, and rich and appealing. Usually, it is an application of making customers entice the brand name that keeps their brand name out of the crowd.