Top 5 Best UV Printing Machines 2022
A UV printing machine allows us to print a digital file direct on substrates and an instant ink drying system. The printer has inbuilt a special mechanism of LED UV Light followed by the Inkjet printhead that starts curing liquid ink drops as the LED UV light hits on ink within seconds and releases almost 0% emission of VOC. UV Printer needs a special type of curable pigment ink. The UV curing ink process is so fast as no chance to spread and soaking UV ink into the substrate. This unique printing feature makes UV printing, a cutting-edge technology.
There is a Countless Benefits of UV printing technology. This is why traditional printing is shifting day by day to UV printing services.
UV Printing Machine Working Principal
Most of all Traditional Printing Methods used ink containing various types of solvents. After the final print, it requires enough time to properly dring ink & during the print dries it releases a lot of VOC (Volatile Organic Compound) which is harmful to nature and human beings.
"UV Printing Machine used specially formulated Pigment Ink (no added any solvents). UV ink (photochemical) is required to dry/cure UV light. Once the ink droplet is sprayed through the inkjet print head on the substrate meanwhile, in the presence of UV light a chemical reaction starts between photopolymer ink & UV light ultimately without losing the second period of time, it dries out without soaking ink, and effecting color accuracy makes a realistic graphic on the substrate surface."
Note 1. Smaller size ink droplet printhead is the best printer in terms o print quality & min. ink consumption.
2. High pass count print head, VU printer produces a better result.
Extra Ordinary UV Printer Features
Small to large size print media (from A4 to 8'x8′) sheet form and 8fit wide and length up to any size.
Printable on both sides of the substrate even on transparent media.
Able to print multilayer to enhance print quality even on a rough surface
Can be printed on almost any type of substrate made of materials as well as glass & metals.
Fade-proof ink.
The super fast drying process.
Wide range of media printing.
Indoor or outdoor product printing.
Variable droplet size printing technology.
Decorate Promotional Product | Various Types of Substrate Able To Print.
Product We Can Print On LED UV Printer
There are unlimited substrates we can customized print from industrial to personalized as Food Box Packing | Notes Pad & Diaries | Medals & Trophee | Aluminum Door | Glass Door | ACP Sheet | Fabric | Banners | and Promotional Products | are highly recommended due to safer & cleaner environment printing technology.
UV Printer For Small Businesses
There is a huge range of UV printer sizes used for different purposes if you are running a small business for promotional products or customized gift printing A4 size UV printers, A3 Size A2 and A1 UV printers might be best useful for you. Easily you can print up to 3-4 " thick substrates such as mobile covers, power banks,
Industrial UV Printer
Industrial UV printers come in big sizes and are the best for industrial and commercial use such as the signage industry. These printers' print speeds are 1000Msqr/hr. Flat bed sheet 6'x8′, 8'x8 fit, and 8″x10.5′. Industrial UV printer is best for bulk and large size print as well Wall Paper, Big Size Banner, Eent Materials, etc.
A Checklist Need To be Noted Before Buying an LED UV Printer
There are several parameter need to check before buying a LED UV printer.
Print Head (Single Head/Multi Head)
InK (CYMK & White)
Bed Size
Depth
LED UV Lamp
Print Speed
Print Direction
Rip Software
Print Quality
Vacuum System
Best UV Print Brands
Mimaki, Mutoh, Roland is a world-class UV printing machine
Types of UV Printers
Flat Bed UV Printer
Rotary UV Printer
Roll to Roll UV printer
UV Printers are available in Roll-to-Roll UV Printer for advertising eco-friendly banners for commercial printing purposes.
Also used for printing on cylindrical items.
UV Flatbed Printing Machine For Customized Gift
Mini flatbed printers are used for various purposes in the personalized printing market like printing on customized Mobile Covers, Personalize Diaries, Note Book, Shipper bottles, etc. Printed products come off the press straight dried out this is the main reason people are using more & more UV printing. It saves your time & labor.
Usually, Flatbed sizes are A3 size or A2 size. Printing head adjustable up to 4 inches in height. These printers facilitate print emergence and spot highlighting.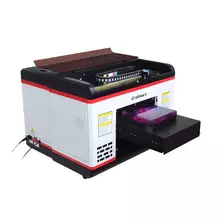 A Flatbed UV Printer For Industrial Use
For the higher productivity UV printer are big in size & most recommended for rigid surface printing likewise PVC Doors, ACP Sheets, LCD Displays, Wall Panels, and Home Appliances, and up to 5″ thick substrate. Bed size 4'x6′, 6'x6′, and 8'x8′. Maximum size can be printed up to 8 ft x 8 fit in a single pcs.
The vacuum table made it easy to print correct registration on the lightweight substrate polyester fabric & banner it holds established on the bed. Big-size UV printer has an industrial-grade print head that covers more than 50 sqr meters of printing per hour.
High breed high speed printer,
UV Printing Machine Key Points
UV printing machine's key point is a type of print head quality and spraying nozzle ink droplet size, Anti head crashing technology, max thickness print head adjustments, maximum print head passes, etc.
Draw Back UV Printing Machine
UV printing machines have only one drawback during the print process filling ink on the ink tank if any amount of ink comes out it can't be dried out until it comes to contact with UV light.
Q. What are the best UV printers?
Ans.
1. The best printers head to produce small-size ink droplets.
2. Anti-crash head technology & ink label sensor keeps your UV Printing Machine low maintenance.
3. High-thickness adjustable substrate.
4. Printing machine must have an anti-clogging re-circulation mechanism.
Q. What is UV in the printing industry?
Ans.
UV in the printing industry is an emerging technology & boon of the 20th century. UV printing technology makes it able to print on almost any type of printing substrate in a brighter color, thickness, and instant drying. It the highly adopted in the medical, and food-packing industries.
What is the mini UV printer price in India?
You can print various customized products like mobile covers, pens, diaries, and notebooks. Mini UV printer price starts from 2.5 lahks and printing size of A4.