Buy Sublimation Printing Guide Step By Step
There is a proverb, experience can't be bought. It asks for consistency, observation, and rectification. There is a huge gap between the sublimation printing theory & practicality of sublimation printing. Here I am going to share my 23 years of unexhausted sublimation printing guide step by step and upgrade your sublimation printing knowledge from home sublimation printing to commercial sublimation printing.
Sublimation Printing in Scientific Term
Typically, solid ink transfers from one substrate surface to another substrate surface, creating an atmosphere of heat and pressure to transfer ink between two substrates (printed paper and intended object) using a specific type of dye ink, printer is known as sublimation transfer printing.
This application is mostly used for customized printing on gift items, flags, and dupattas.
"Sublimation printing process in scientific terms is the transition of ink from one solid substance to another solid substance into gaseous form skipping the liquid state." This chemical reaction happens in the presence of specific temperatures, pressure, and specific types of sublimation raw materials (ink & polyester-coated stuff).
Sublimation Printing Fact: 1. Sublimation printing can be applied only on a light surface and polyester material or polyester-coated surface. 2. Best Sublimation printing result can be produced on 100% polyester materials made products.
Common Sublimation Printing Products
There are many reasons to buy step by step sublimation printing guide is important. Heat temperature count, pressure, and timing vary from sublimation blank surface to surface.
Our step-by-step sublimation printing guide can help you to create a quality printing product while you are remote area.
If you follow you can minimize sublimation printing waste and print head clogging issues.
You can produce a quality sublimation print more than you expect.
Except for sublimation printing you can maintain your wastage
Save your time and be a sublimation print expert in min. time frame.
There is a big list of sublimation products that get printed through the sublimation process as well including Sportswear, Cofee Mug, Ceramic Plates, Bathing Suit, Jersey, Flag, Bear Mugs, Metal Name Plate, Travel Mug, Flag, etc.
The sublimation printing application is great for customized gift printing for customer demand services. Before starting how to sublimate on Blank Products let's understand Sublimation Printing in detail.
Sublimation Printing Benefits
From a business point of view, you need to understand the future of sublimation printing business demand, today and in the coming years because you are going to start a profession in your life.
You come to know that sublimation printed products are scratch-free, permanent, fade-proof, peel-off, and vibrant image printing.
No drying Issue
No, degrade sublimation products.
Easy to print intricate designs without the mess
6 Reasons Why Sublimation Printing Most Appreciated Rather Than Other Print Process
Sublimation printing is a customized printing process. no basic setup cost, even print volume is as low as 1.
Once a product is sublimated never fade-off till its life.
No ink bleed, during the sublimation process as well as happens in the screen printing process.
No water waste, more manpower. and high energy.
Instant printing application.
Zero wastage of raw materials.
Best print process for small batch orders.
Sublimation Printing Guide Step by Step
There are a few types of equipment you are required to start a sublimation printing business. To run a profitable sublimation printing business, choose the best-recommended product with reason.
1. Computer & Design Software
To make creative customized products like t-shirts, and coffee photo mugs, your first need is a computer and design tools. With the help of these tools, you can create or also download intended designs from an online design-making website like canva and free pixels if you are not good at designing. Usually, most all professional designer uses Corel-draw, PhotoShop, etc.
2. Choose The Best Sublimation Printer
Choosing the right sublimation printer might save your printer maintenance cost and produce enhanced quality sublimation prints. As sublimation printing required a piezoelectric technology-based print head machine. I have tried various sublimation brands and tested them practically. So choose at least one as per your customer work order demand Best Sublimation Printer Collection.
3. Quality Sublimation Ink
Sublimation ink is a water-based solid particle dye ink. Once the ink is printed on polyester-coated paper (sublimation paper) solid ink particle stays on the paper remain and are water vaporized. During the sublimation process, solid ink particles start moving into a gaseous form to the intended products, due to heat sublimation product pore opened and the gas-particle permeates into and makes a gas particle solid bond with the product particle.
Best quality sublimation ink not only helps distinct quality prints but even keeps your sublimation printer clogging-free and printer print head life long.
Sublimation ink is a specialized ink that works best for printing on specialized sublimation paper for transferring full-color images on sublimation blanks.
Quality sublimation ink formulated for fast drying on paper.
Highly recommended for using branded ink that fully supports your printer.
Choose the Best-Adopted Sublimation Ink for your sublimation printer.
Fact No.
1. Sublimation printing does not work on natural fabrics because dye ink passed through fiber and does not make a bond with the ink.
2. Sublimation printing on a black or dark surface do not clearly visible. White & bright color surface is the best for it.
4. Sublimation Paper (Polymer Coated)
To make sublimation ink transfer on the substrate, a special type of polymer coating is applied evenly onto a single side or both sides to make ink maximum transferrable on the substrate. This polymer coating holds sublimation ink only on the top layer of paper (sublimation paper does not observe sublimation ink). Sublimation Papers are available in sheets and rolls in both forms. Firstly sublimation ink is sprayed on the paper.
Note 1. Sublimation paper is used here, as a carrier of sublimation ink from the sublimation printer to the substrate only.
2. Sublimation is used only one time only.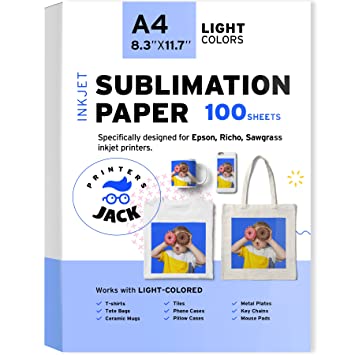 5. Heat Press Machine
Heat press machine performance is based on 3 basic parameter
Temperature
Pressure
Time
1. Temperature
Hard and soft both types of products can be sublimated. Usually, soft products like fabric (polyester, nylon) required a lower temperature of 170 -200 degree Celsius, and Hard products ceramic & metal-made products need a high temperature (300-350) degree temperature. To get the best result you have to follow practically.
2. Pressure
Similarly, you have to maintain balanced pressure to keep in mind as high pressure may be a reason to break a product bear mug (glass), or coffee mug (ceramic mug). Fabrics made of polyester and nylon can withstand high – pressure.
3. Time
Dewell Time (It's a time frame sublimation product stays in heat press machine during sublimation ink transfer) very product to product made of different types of quality substrates. Harder stuff, as well as coffee mugs and metals, needed more dwell time compared to fabric and wood products.
Different shapes and stuff types require different styles of heat Press machine is used to transfer ink from sublimation printed paper to the sublimation blank. Different shapes of sublimation blank required a Different Shape & Size Heat Press Machine. Digital timer and digital temperature count help to produce a better result.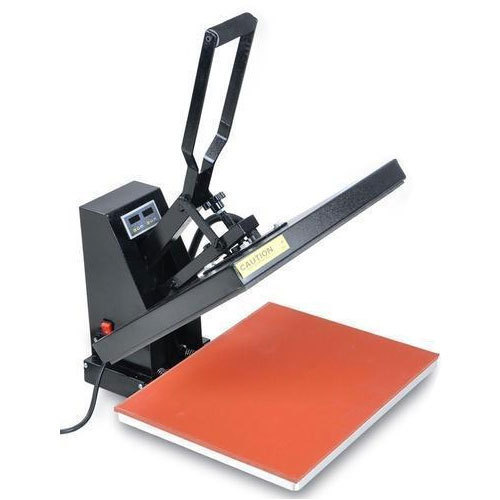 These heat presses are manual & auto-open heat-press. Available in Flat Surface, Cylindric Shape, (Sipper, Coffee Mug), and Curve Shape (Plate) is the most common shape. Whether it is soft sublimation or hard sublimation blank flat heat press machines work best.
Flat surfaces heat press machine is the best fit for printing on fabric, mouse pads, and coaster.
6. Teflon Sheet & Thermal Tape
Teflon sheet protects to burn your sublimation product, finger, and sublimation ink to stop replicate printing on the sublimation blanks.
Thermal tape is used for holding sublimation paper with sublimation blanks to avoid creating image ghosting.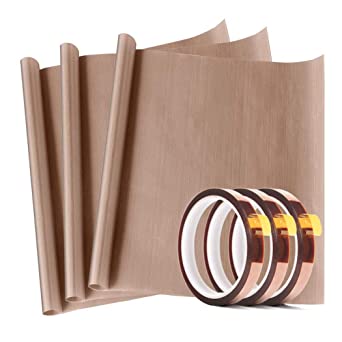 Best Tips to Sublimate on Blanks
Now we have collected all types of raw materials to start a sublimation printing business. Lets we start printing customized t-shirts.
Create a design in designing tools like Corel-draw software.
Select the print command gets mirror image printing.
Place your t-shirt on the heat-press machine and make sure the print faces the t-shirt printing intended area.
Switch on the heat-press machine.
Tape sublimation printed paper onto the t-shirt properly.
Manage heating temperature and count down heating time in (seconds).
Press down the heat press machine liver.
The Sooner the heat press machine liver down, the time count down starts.
If the heater starts weeping it means the t-shirt is ready to wear.
15 Sublimation Printing Common Problems and Their Solutions
In any printing business, you are going to start there are a lot of challenges at every step, like that you have to overcome sublimation printing problem step by step. You may encounter some problems but I assure once you start doing sublimation printing. gradually you will come to know how to solve these common problems automatically by following these easy tips & tricks for observing & rectifying them automatically.
1. Image Ghosting (Problem)
Image ghosting is a type of printing error, images view blurry, and you will find double-time printing effects that mean less visible or confusing. Basically, it is a kind of printing error. Unable to find the original print is known as image ghosting.
Solution 1. To get rid of ghosting problems in sublimation printing can be fix tape down the sublimation blank with sublimation printed paper and apply the medium & even pressure at the heat press machine.
2. Lower Volume Transfering Ink (Problem)
Lower volume transfer ink creates faded print quality.
Solution 2. Producing faded print results could be 6 possible reasons.
Poor quality sublimation paper, try High-Releasing Ink Sublimation Paper. Sublimation blank polyester coating is poor
Sublimation printout on uncoated side paper. it may be cause you took a printout on uncoated side paper might be the cause of lower ink transfer
Lower temperature and time count may be reasons for fading print quality follow the recommended guideline.
Low-resolution image quality is also a major factor, highly recommended image quality 300 DPi for better-quality print.
The heat press machine temperature might be set at a lower than recommended temperature.
Pressure between sublimation paper and sublimation blank can create these types of problems.
3. Previous print impression on sublimation blanks (Problem)
Sometimes you may occur previous content and current content both on sublimation blanks. There are two possible reasons.
Solution 3.
It is highly recommended place the Teflon sheet above the sublimation paper during the heat press that prevents dye ink to stuck on the heating element plate.
Due to the extra temperature count, fix the temperature as per the guideline and use blank paper over the sublimation print.
4. Miss Printing (Problem)
Most of all bigger sizes this kind of problem mostly seen.
Solution 4. Due to the uneven surface of the heat element plate and plate to put on sublimation blanks create miss printing you make even by pressing the pressure controller nob or placing some contact etc.
5. Faded & Blurry Image (Problem)
Low-quality images fail to attract customer attention.
Solution 5. Higher resolution images create a better quality print. To avoid undesirable outcomes we recommended 300 DPI and above if possible.
6. Yellowish Color Print (Problem)
The yellowish color print looks awkward even though it is the coffee mug
Solution 6. The reasons behind this problem are either access temperature or excess transferring time. Use recommended dye ink transferring time and temperature on specific types of sublimation blanks.
7. Banding (Problem)
During sublimation printing, you will face a striking on the print
Solution 7. Banding is the problem of ink drying in the print head, your need to clean the head or immediate exchange, to avoid this problem clean the head regularly once work is finished daily, and before starting printing apply head cleaning functions.
8. Disappointing Color Outcome (Problem)
Solution 8. It is a color correction you need to change the color mode from JPEG to CYMK or CYMK to JPEG to get the best sublimation result.
9. Sublimation Paper Marking (Problem)
Solution 9. It is an effect of overheating & press. You are required to understand the balanced pressure on the fabric, due to high pressure on the fabric at the time of sublimation paper thickness leaves a mark on the fabric which looks awkward after printing. To avoid decreased pressure through pressure controlling nob.
The Disadvantage of Sublimation Printing
There are a few downsides of sublimation printing that need to be noted.
There is a limitation of sublimation blanks.
Printing can be done only on polyester or polyester-coated materials.
Conclusion
Sublimation printing involves practicing, implementing, and experiencing a variety of products.
Sublimation Printing Questions & Answers
Why do we choose sublimation printing?
Choosing sublimation printing could be your hobby or business perspective or both. Sublimation printing can be used for home decoration, customized gifting, and commercial textile printing.
How much does a sublimation printing business setup cost?
The sublimation printing business is a low-investment and highly profitable business. You can start with a sum of rupees 1 lakh initially. Later on, you can scale up your business and invest more.
Are heat transfer paper and sublimation printing both the same process?
Heat transfer paper and sublimation printing are different from each other but both types of transferring applications are the same.
Heat Transfer Paper is a thin layer of polyester materials transferred to the fabric on the top you can easily feel it.
Sublimation Printing is a process where a sublimation ink is transferred from one substrate to another substrate into gaseous form and became a permanent part of the substrate. You can't feel it by touching it.