Looking for the best rubber stamp blank near me
There is a huge market for stamp-making businesses in India. A rubber stamp for a business is a mandatory and essential part of office stationery even if your business is small or big. You can start a physical rubber stamp-making shop or an online rubber stamp-making store.
There are numerous types of stamps used in businesses, they could be heavy-duty or personalized rubber stamps. If you are already running a stamp-making business or searching for a new business opportunity of stamp-making business you can buy online rubber stamp blanks and get them delivered to directly your doorstep.
The rubber stamp-making business can be started initially from the home. Monthly you can earn Rs. 60,000 to 70,000. As each and every document to make it valid required a rubber stamp. Different purposes documents required a different types of stamp.
Type of Stamp-Making Process
There are mainly 3 types of professional stamp-making processes.
Flash Stamp
Polymer Rubber Stamp
Embossed Stamps (Common Seal).
The stamp-making process is as simple as A, B, and C. Initially, you can do it yourself, not require enough manpower you just need to be practiced.
Heavy-Duty Rubber Stamp Blank
Heavy-duty stamp stamps are used in the commercial sector as unlimited rubber stamp impressions are done on documents throughout the day likewise in the bank, post office, logistic import, and export sector. Every document going out or needs to be made properly valid. These heavy-duty stamps body is made of an in-built spring mechanism which helps to make a stamp dye to pick up ink from the ink pad before making each impression & faster.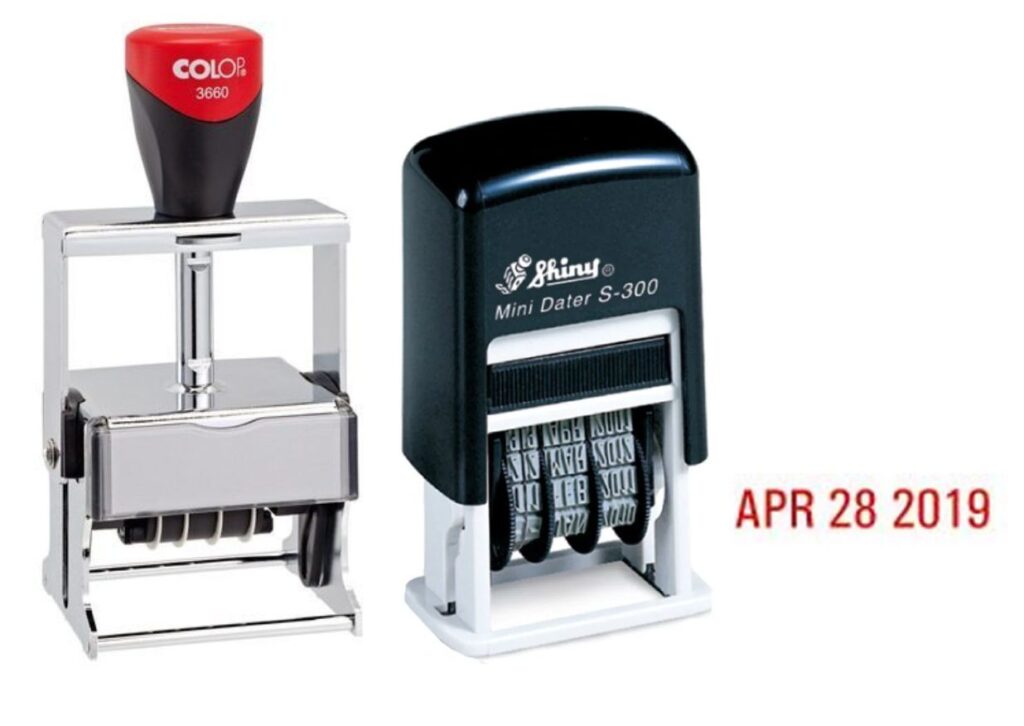 Personalized Rubber Stamp
Stamp for professional practitioners like a doctor, engineers, accountant, or self-employed business has limited use of the stamp and carry while they are on a business trip to sign-up for a business agreement. These stamps are handy, smart, and compact in size to carry in the pocket with the safety of ink smudge-free. Pre-Ink Pen and Pocket Stamp are very tiny and compact in size.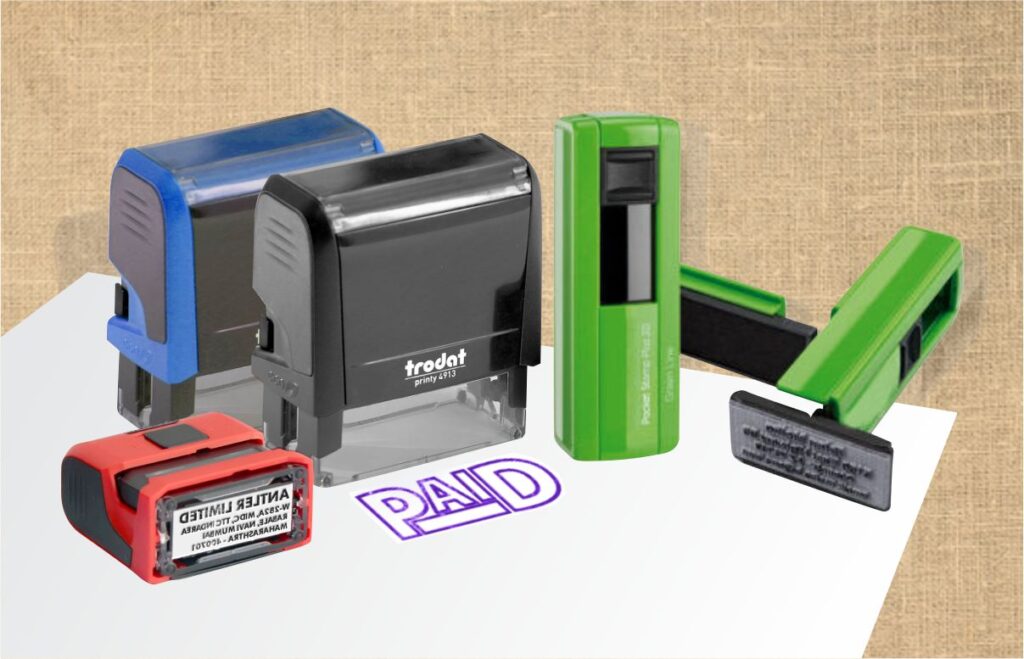 Best Rubber Stamp-Making Raw Materials
Quality raw materials are the root of the stamp-making business that's why customers come back again & again. Normal rubber stamp or luxury rubber stamp users for both buy the best rubber stamp supplies with a quality guarantee and with a return policy.
Flash Stamp Making Raw Materials
Oil-based ink | Flash Stamp Machine | Butter Paper (Negative) | Stamp Handles/Mount | Rubber Foam | Butter Paper Enhancer | Computer & Laser Printer | Separate Colour Ink Tank | Transparent Film | Bond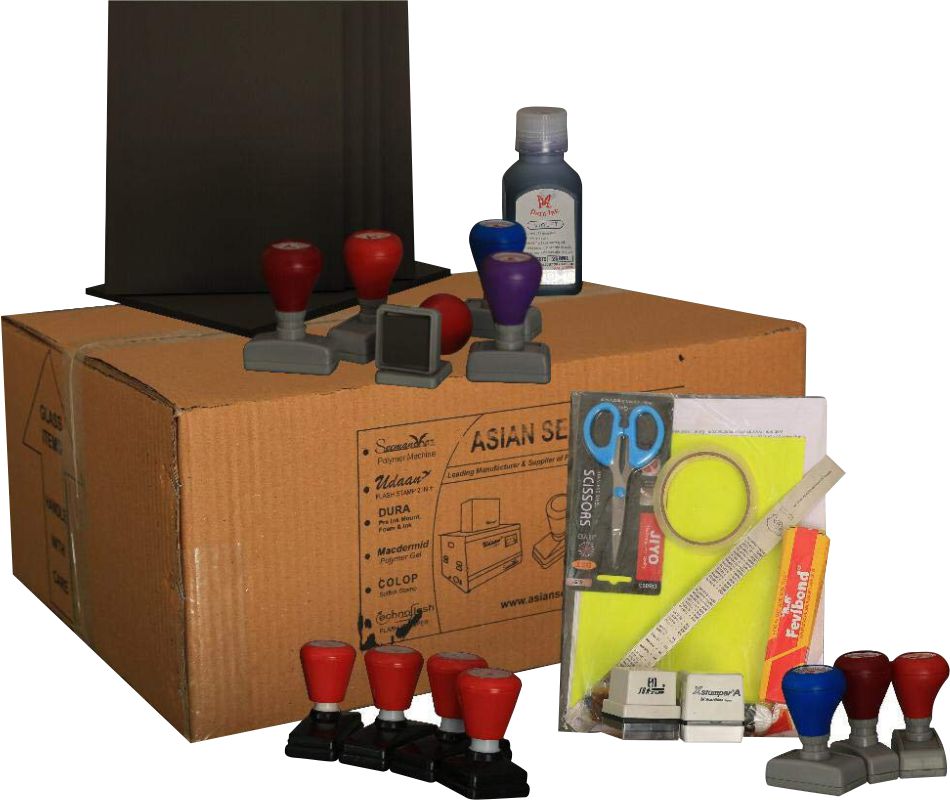 If you are a stamp business startup buy a flash rubber stamp-making kit.
Self Ink Stamp Materials
Liquid Photopolymer | Polymer Stamp Making Machine | Polymer Hardener Chemical | Substrate Sheet | Transparent Film | Double Tape | Scissor | Cutter Blade | Butter Enhancer | Gloves | Embossed | Dam Tape | Washout Chemical | Tooth Brush
The polymer stamp-making process is labor-intensive but very cost-effective.
Types of Rubber Stamp
Different types of stamps for a business Pre-Ink, Self Ink, Embossed Stamp, Rubber Stamp with Inkpad. Rubber stamp rates are different starting from Somehow Rs 50 to more than 1000. Have duty stamps been used in banks, and courier services?
I) Pre-Ink Rubber Stamp Making Process in Easy Step
"The pre-ink stamp body is a type of stamp that mechanism is based on ink-soaked rubber foam into stamp body and pressing over on the required document, The ink comes out in a balanced amount in the form of sharp stamp content."
Special for stamps, rubber foam sheets come in 0.90″ thick and 6″x4″ in size and are cut into the order size. The stamp's intended content is engraved on rubber foam with laser technology, widely known as a flash stamp-making machine.
Engraved rubber foam is dipped into the required ink tub for 2-3 hours to soak the ink.
After mounting ink-soaked rubber on the handle and pressing it against the document, the ink comes out only engraved only.
Produced content from the flash technology is very precise even if letters and graphics are very small in size.
Looking rubber stamp urgently, going for a pre-ink stamp is the fastest stamp-making method.
The ink used in pre-ink stamps is oil-based.
II) Self-Ink Rubber Stamp-Making Process Step by Step
The second most stamp used is known as the self-ink stamp also known as a heavy-duty stamp. Self ink stamp-making process is a time-consuming method but cost-effective.
"Self ink stamp is a type of stamp that a stamped blank has inbuilt stamp dye and ink pad, before making an impression on the document, each time stamp dye rotates on 180 degrees to pick up ink from the inbuilt removable ink pad."
"Rubber stamp dye making process for the self-ink stamp is based on UV light and photopolymer gel activation. As UV light applies to the photopolymer liquid, the butter black (covered) and white (open) is converted to a solid rubber. Let us see how it works."
Firstly, make a computerized design and get a printout of the design on butter paper with fully black in reverse (negative) form to avoid a gray color print.
The next step is to place the design printed on butter paper, facing the front side top bottom of the glass, and tape it. Make a boundary around the butter placed on the glass with a thickness of 2mm with dame tape.
Fill the dam tape area with a liquid photopolymer you covered with tape and make equal thickness polymer and bubble-free.
Place the transparent sheet on top of the polymer liquid.
Keep inside glass of photopolymer liquid loaded into polymer stamp-making machine.
Set the digital timer and switch the UV light on.
Keep your eye sharp at the meter time counter down and stop the UV light. The exposure time of UV light varies according to the font size and weather temperature set accordingly.
Take out glass from the polymer stamp-making machine.
Remove the tape and keep the polymer sheet in the washing solutions and use the toothbrush to wash it out properly.
Keep the polymer sheet warm and polymer hardliner chemical for a few minutes to remove viscosity.
Take it out from the hardliner chemical and leave it for some time to dry and your polymer stamp dye is ready to mount on the self-inking stamp mount.
Self-inking stamps ideally a lower quality impression compared to the pre-ink stamp and last longer.
Make sure during a design to keep the outline as thicker as possible as the line does not face brush washes.
Different Types of Rubber Stamp Uses
Stamps are known for their uses in the business likewise Dater Stamp, MRP Stamp, Proprietor Stamp, Director Stamp, Address Stamp, Round Stamp, Embossed Stamp, Bank Deposit Stamp, Common seal there are unlimited types of stamps over there.
A few of the stamps you can make within 30 minutes.
Rubber stamp blanks are a material used for making rubber stamps like blank rubber, inkpad, ink, rubber making stamps, and rubber stamp glue.
Differences between stamps in terms of price, used ink, production time, content quality, thumb impression, text or graphics, and refillability.
[wptb id=831]