Blank Products for Sublimation
Dye-sublimation printing is a modern printing application that works only on polyester, polymer, or polymer-coated materials but only on white or light backgrounds. It is mostly used for personalized or customized printing products on the blanks. Firstly the graphic is printed on sublimation paper with a mirror image with piezo technologies printing then, the image printed on sublimation paper is transferred to the substrate with the help of heat & press.
This printing method is a combination of perfect heat, and press, for a recommended time period. The heat press machine plays a major role to make even pressure on the substrate that produced sublimation printing resulting in bright color, fade-proof, long-lasting, and scratch-off ink.
"Sublimation blanks are raw materials used for customized or personalized sublimation printing like photo mugs, travel mugs, cushion covers, promotional t-shirts or shirts for gifting, etc. These products are either made of polyester material or pre-polymer coated."
1. Ceramic Mug
When it comes to gifts for friends' birthdays, anniversary celebrations, or giveaways for business promotions, ceramic mugs are in high demand due to their cost-effectiveness & perfectly message conveying.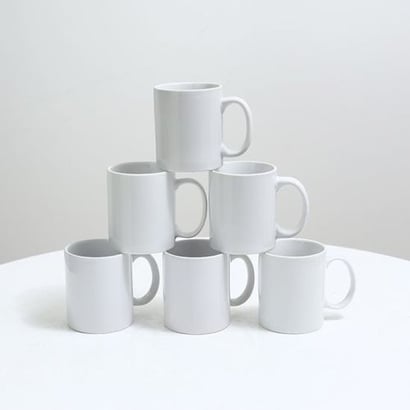 I) Premium White Ceramic Mugs
A+++ quality at the best price
Size 11 ounces
Used for sublimation printing
Cylindrical shape 4″x4″ Dia
Each mug weighs 300 gms
Each mug's capacity has 325 ml
The recommended temperature at 349 Fahrenheit temperature
Printing area 90mm x 190mm
FSC Approved
Fragile products
Heat press time 3-4 minutes
Min. order quantity 36 pcs.
II) Magic Mug/Color Changing Mug
A+++ quality mug
11-ounce size
Used for sublimation printing only
Each mug weighs 300 gms.
Available in Black, Red, Blue
Cylindrical shape 4″x4″ dia
Each mug has a 325 ml capacity
Heat press time 3-4 minutes
III) Dual Shade Mug
Outer white space is used for branding/photo printing.
11 Ounce
The mug has a capacity of 325 ml.
Available in White & Black, Red & White, and White & Yellow
Printing area 90mm x 190mm
Cylindrical shape 4″x4″ Dia
Each mug weighs 300 gms.
Each mug has a 325 ml capacity
Heat press time 3-4 minutes
2. Sublimation Coaster Blank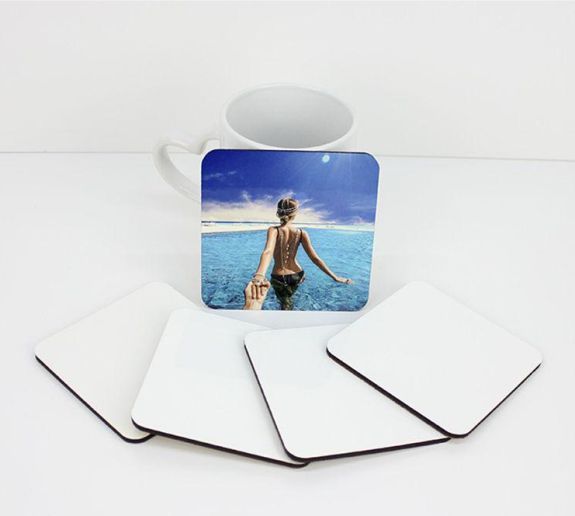 Size 4″x4″,
Made of MDF materials
HD quality printable blanks
Best print quality at 180 degrees Fahrenheit temperature.
100 pcs each set
Thickness 3mm
In case, any queries about how to print click here
3. MDF Key Chain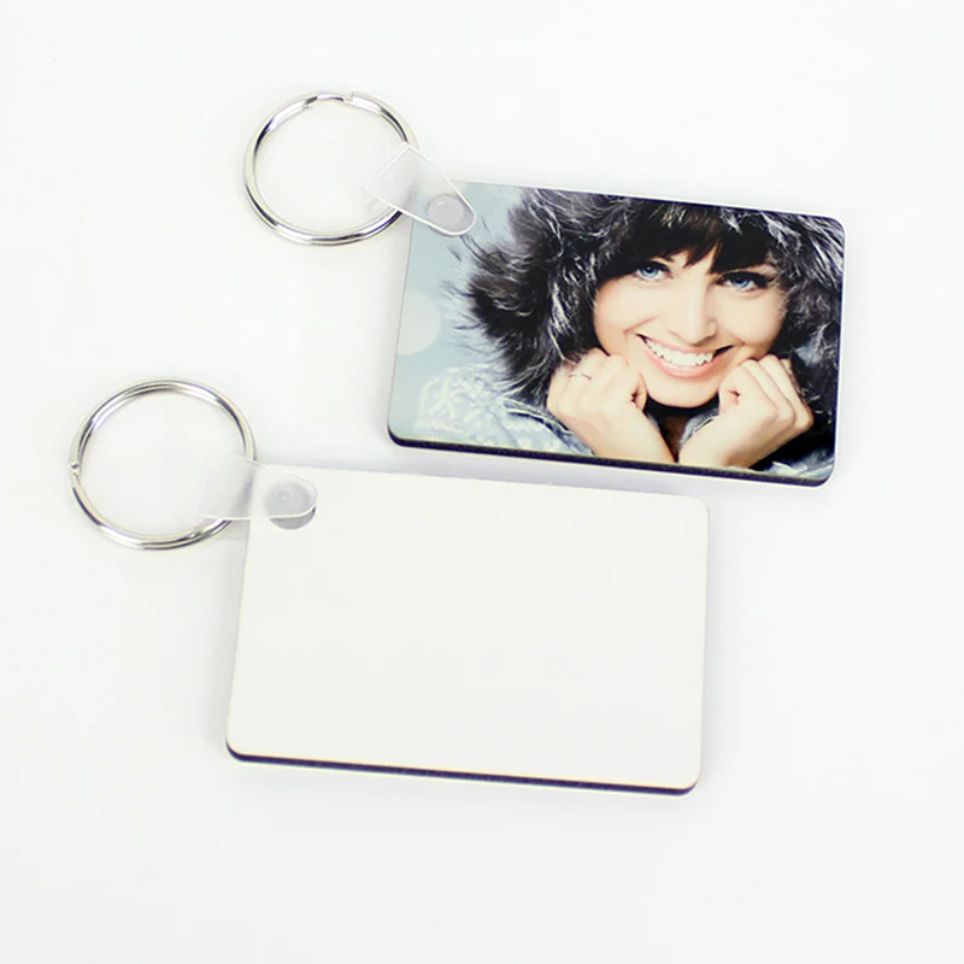 MDF key chain blanks range starts from Rs. 30. Move with photos of your loved ones.
Standard thickness comes with 3mm
Can be printed on both sides
Both sides are highly polyester-coated stuff
Each set has a minimum of 100 pcs.
Available in heart shapes, squares, rectangles, and stars
Recommended heat press 350 Fahrenheit temperature.
Heat press time 60 seconds.
4. Ceramic Plates
The ceramic plate can be printed with 3D sublimation printing machines. Except for gifting purposes exploring the brand name hotel & restaurant industry prefer most.
Small plate 8″x8″ and big size 10″X10″.
Each set of 4pcs.
Full-color printable.
Fragile products "handle with care"
The recommended temperature for sublimation is 349 Fahrenheit
Image transferring time is 60 seconds.
5. Sublimation Coated Blank Water Bottle
Colorful photo printable
Aluminum metal bottles in different sizes.
Polyester coated,
The thickness of aluminum metal comes to 0.4mm
Sublimation printable standard size.
500 ml and 700 ml are mostly used for school & nursery students
Min. order qty. 10 pcs.
6. Sublimation Mousepad Blanks
Made of rubber materials make your mouse is safe from damage and displays your brand name. More flexible and easy for using mouse.
Size 12x18x0.30 cm,
Easily grip the table.
White color
Printable 280-300 Fahrenheit temperature.
Flexible and HD quality sublimation printable.
Printable area 220 mm x 95mm
7. Kitchen Apron
Standard size 28″x32″
PC cotton stuff, sublimation printable.
Help to keep safe your cloth from oil stains.
Able to wash multi-time
8. Ceramic Photo Tiles Blanks
Best quality HD photo printable. It is best for gifting and collecting old memories.
One side is highly polyester coated with a firmly holding stand.
Breakable but highly glossy.
Digitally can be printed in high quality.
Produced colors are permanent
8″x10″ and 8″x8″ are ideal size.
Recommended time for heat press 4-5 minutes
9. Promotional T-shirt Blanks
Looking for promotion t-shirts, available in round neck and polo at the cheapest price. A budget t-shirt helps to reach out to more prospects. You can choose a t-shirt fabric made of polyester, silk, nylon, and spandex made can be printed. These cheap-price t-shirts are the best for event promotion and election campaigns. The price range starts from Rs. 58.
100% polyester
98% to 99% ink transferable.
Available only in white color.
All sizes for men and women are available.
Thickness 140-160 gsm
Best printing at 180 degrees Celsius temperature.
Heat Press time 60 seconds.
10. Fridge Magnet
Best for making a calendar. The best gift for a housewife is to notice down electrical or plumber numbers.
These blanks are printable multicore.
The standard size is 4″x4″
Easy to remove and place
You can apply fridge, almirah, washing machines, etc.
11. Pillow Cover
Gifting for newborn babies, newly married couples, and gifting boyfriends are highly recommended.
Soft & breathable fleeing
Multi-color photos printable fabric
Long-lasting color
Lovable for everyone
Instant ready for gifting
A magic pillow cover is also available
Standard size are 12″x12″ and 16″x16″
Are you looking for the best sublimation printing skill, sublimation printer, paper brand name & best heat press machine?
For technical support email: printingmachine16@gmail.com
Q. & A.
Q. What product we can sublimate?
Ans. Most of all stuff like Metal, Wood, Plastic, Rubber, Ceramic, Manmade Fabrics Gloss, and many more can be sublimated but they should have heat-proof and polyester coated.
Q. What is polymer coating?
Ans. The polymer coating is a type of chemical that makes enables your design to penetrate the substrate during heat press. In the presence of heat and press polymer-coated substrate pores open to receive dye sublimation ink and closed sooner as the substrate gets cold.
Q. Why we can not sublimate on the black surface?
Ans. Sublimation printing ink transfers on the substrates as tattoos. White color ink does not come from types of sublimation ink that's why unable to transfer on sublimation blanks.
Q. What is a ghost image?
Ans. Ghost image is just invisible to identify. During the sublimation printing, it required a balanced heat & pressure. When it comes to lower pressure dye ink scattered and fixed to the unwanted area and the picture became illigible.