Buy the Best PVC Blank Cards
There are different types of PVC Blank Card used for various purposes known as RFID Card, MAGSTRIPE CARD, CHIP CARD, PLAIN PVC Card, etc. Each type of plastic card has its own importance. All these blank PVC cards can be printed digitally using Thermal ID Card Printers & Inkjet Printers using both Thermal & Piezoelectric Technologies. These PVC blank cards are available in a bunch of 50, 100, and 200 pcs sets.
Note: There are two types of PVC ID Cards
Best for Inkjet Printers
Best for Thermal Printers.
Best PVC Blank Card Used For
The smart card is made of plastic materials used in various sectors. Plain PVC cards are used as
Personal Identification of the students in the school ID Card,
Privilege Cards, Club cards
Financial Transaction (Debit Cards, Credit Cards)
DATA TRACKING & IDENTITY for both purposes.
Security Perspective
NFC Business Card.
Hotels, Sensitive Area Point of View High-Security offices uses a smart card for remote access as well as SAFETY & SECURITY purpose.
PVC Blank Card Compatibility with Printers
Evolis, Zebra, Data Card, Fargo, and Magic Card are the most popular brands in making smart PVC Cards marketing space using sublimation printing technology. These plastic cards are compatible with all these printers as well as thickness, card size, and printability.
RFID Card (Radio Frequency Identification)
Mostly these cards are used for security and tracking goods purposes mostly used in hotels, government buildings, logistics, and airports. It is known as contactless smart cards. Live production update from multiple stores.
NFC TAG
NFC Tag is used for data transferring purposes, corporate businesses, institutions, hotels,s and universities sell their courses to their customers in the form of business cards, security devices, and payment sources using NFC TECHNOLOGY. It can be printed using thermal sublimation printing technology.
Magstripe PVC Card
Financial institutions and security institutes are likely used the most. magstripe cards are low-data storage cards.
Chip-Based PVC Card
The chip-based card is used for both purposes
Identification like Pan Card
Data Access Cards in Transport Department, Banking Sector, and Health Sectors are the most users of data cards
Door Access Card
The chip-based card uses as an electronic wallet (debit & credit cards).
Note:: Before purchasing make sure you are buying blank PVC cards for use for Thermal Printer or Inkjet Printer
100 Pack – Premium Blank PVC Cards
Top Pick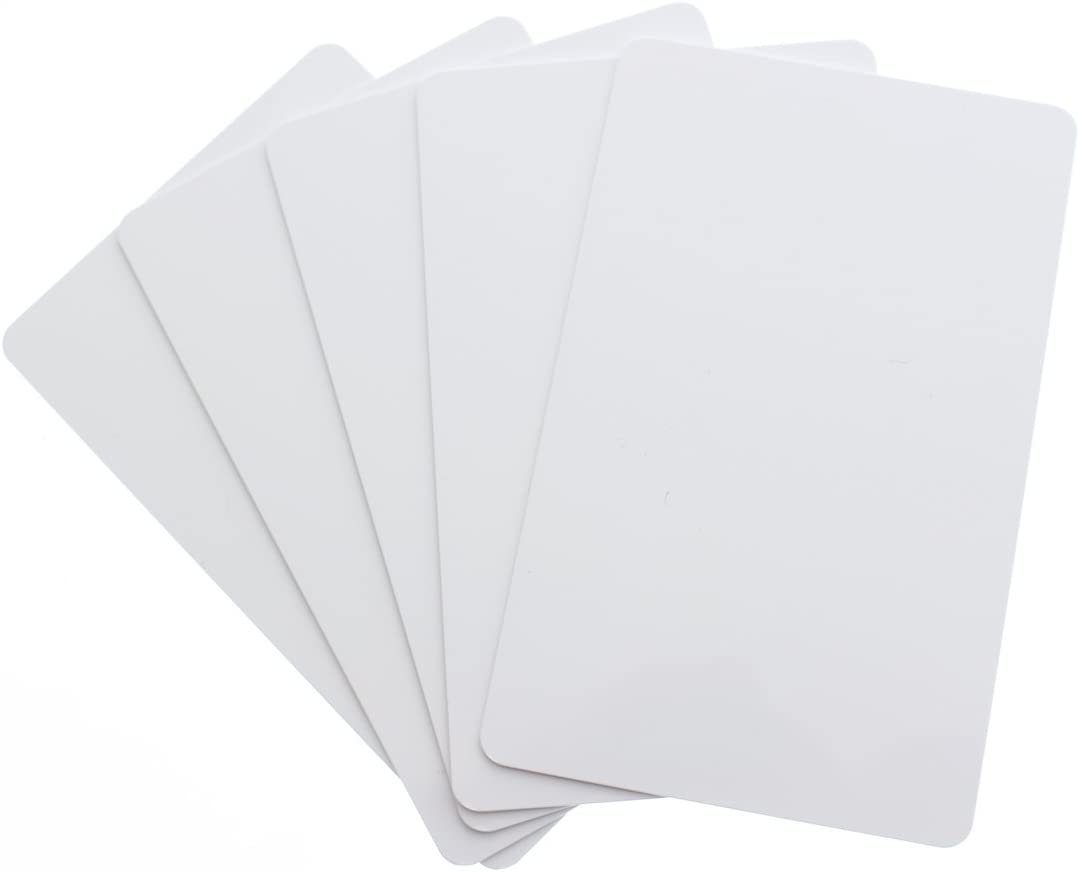 Pros
Compatible With ID All of The Most Popular ID Tag Card Printers (NOT INKJET): Evolis, Zebra, Badgy, Fargo, Magicard, DataCard
PACKED WELL – Shrink wrap Sealed When Manufactured so You Get Only Clean – Ready to Use Cards
PROFESSIONAL QUALITY – USA MANUFACTURED – The Standard (High Standard) in Office Badges
Some of Our Customers Like to Use These as a Replacement to Index Cards for Traditional Role Playing Games
Country of Origin: Philippines
High-quality professional grade polished CR80 30Mil Cards (8030) is the prefect choice for all major ID Badge Printers. We ship only shrink-wrapped and brand-new.

These blank credit card-sized replacement badges are perfect for any school, business, church, function, or organization that needs to produce high-quality double-sided name tags or identification badges that DO NOT require mag strip or prox technologies. These are ideal for student ID's and environments where the badge is inspected visually at a security door or checkpoint. If your HR and Human Resources department is in charge of employee and staff badging and facility access controls, then these bulk cards will be perfect, they come secured in plastic shrink-wrap sleeves to keep the cards clean and extend the life of your monochrome printer.
What is the thickness of the Thermal PVC Card?
The thickness of thermal PVC ID cards used worldwide comes is 0.30 mm. Usually fits any digital thermal printer, data card reader, or ATM Machine.
Smart card what is!
A smart card is made of plastic materials with an embedded electronic device used for identity, safety, and security purposes. The size of a smart card is standard worldwide 54 mm x 85mm. Used by an electronic reader.