Types of Thermal Transfer Ribbon
Thermal transfer ribbons are used for barcode labeling on paper, plastic & metals. These barcode stickers and shipping information are in various industries like Medical, Logistics, Exports, Jewelry, and Various Security Devices using heat transfer technology.
There are three types of thermal ribbons used for transfer printing, and each of them has different durability and different uses. Before buying you must understand its appropriate uses.
Wax Ribbon
Wax ribbons are inexpensive and used for short term like restaurant bills, shipping information, bus tickets, etc. the concept of wax is to melt sooner compare to another substrate so it's a cheaper ribbon used for thermal printing. These ribbons are used in direct thermal printing with the lowest heat print head.
Wax-Resin Ribbon
Wax-resin ribbon is more durable compared to wax ribbons. better to use for plastic labeling on cold products, normal temperature containers heat, and weather resistance is high. During transfer print head required a little more temperature to transfer on the substrate.
Resin Ribbon
Resin ribbons are fully resin ink that has a high capacity to protest heat, moister, scratch, etc. it produces a very precise design with multicolor printing used for very high-quality printing products. Commonly used for printing on plastic labels, PVC cards, etc.
Direct Thermal Printer
A direct thermal printer does not require ribbon, ink, or cartridge. Media used for printing have a special type of coating of wax, wax resign) matte or glossy coated.
When a heated print head is applied to it, the substrate melt and is converted into black and creates an image or text. with a carbon layer on the top once the heat is applied it leaves a mark on the substrate ultimately producing short terms used to print as well as restaurant bills, shipping labels, and bus tickets.
Re-Transfer Thermal Printer
The re-transfer thermal printer required ribbons. Resin ribbons create long-term used print prints like National ID Cards, Driving licenses, Pan Card, Insurance Cards & Pan Cards.
Ribbons used in each type of printer are different and work differently. Ribbon lifespan time depends on the quality of materials used. There are two types of materials used for making thermal ribbons 1. Wax 2. Resign.
CYTTR 4.33″ x 244′ Thermal Transfer Ribbon
Top Pick
Desktop Printer and its Ribbon
Desktop Printer normally uses small size ribbon:110MM*74M .
Ribbon material depend on the label you print on.
If print on Paper label, normally choose Wax Ribbon;
If print on PP label, or glossy Paper label, choose Wax Resin Ribbon;
If printing on PET, PVC label etc , choose Resin ribbon.

Industrial Printer and its Ribbon
Industrial Printers normally uses big size:110mm*300m or 110mm*450m etc.
110mm*300m is the most often used size for almost all industrial printer.
110mm*450m for some printer, for example :ZEBRA ZT410,ZT420.
And for ribbon material choosing:
If print on Paper label, normally choose Wax Ribbon;
If pirnt on PP label, or glssoy Paper label, choose Wax Resin Ribbon;
If print on PET,PVC label etc ,choose Resin ribbon.

CYTTR 4.33″ x 244′ Thermal Transfer Ribbon – 1 Roll. Resin Enhanced Wax 1/2 Inch Core Ink Out
Material:Premium wax ,
Size:4.33″ x 244′ /110mm*74m ,
Ink face: Ink out ,
Thermal Transfer Ribbon Premium Wax Ribbon 1 Roll for Zebra and Eltron Printers High Durability and Low Noise compatible for Datamax Zebra GC420t GK420t GX420t TLP2442 TLP2844
Fargo Printer YMCKO Color Ribbons
Top Pick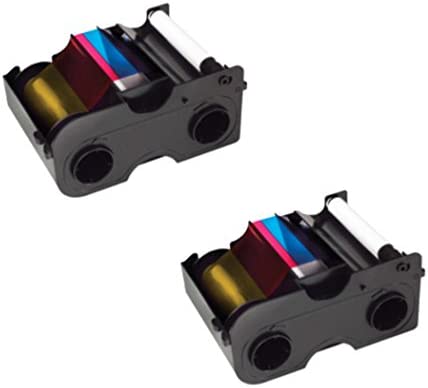 Pros
Prints 250 single side cards per ribbon
Save big with the Fargo 45000 YMCKO ribbon bundle. To maximize printed card quality and printer durability us only genuine 45000 ribbons. Use this bundle for the following ID card printers:

DTC1000
DTC1250e

The bundle comes with 2 Fargo YMCKO color ribbons and 2 cleaning rollers
Fargo YMCKO color ribbons are used for printing a combination of full-color images and one color text or barcodes
The YMCKO ribbons are for use with the following Fargo ID card printers: DTC1000 and DTC1250e
DEFMATE 4.33″ x1476′ (110mmx450m) Thermal Transfer Ribbon Core 1″ Ink Outside Wax
Top Pick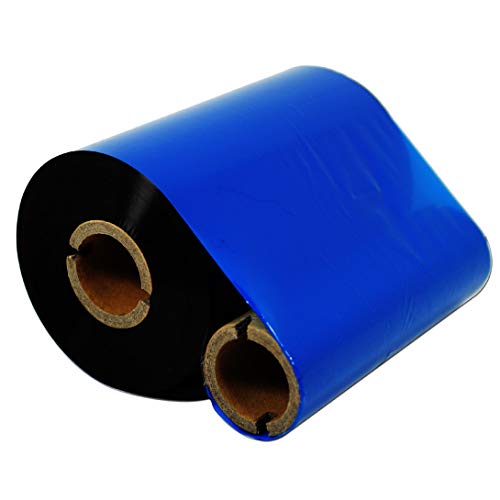 Suitable for ZEBRA(Desktop Printer S4M Z4M 105SE 105S 105SL 105SLPlus 160S S500 S600 Z4000 ZT200 ZT220 ZT230 ZT410 ZT420 ZM400 ZM600 110Xi4 140Xi4 170Xi4 220Xi4 RZ400 RZ600 R110Xi4 GC420t GK420t GX420t GX430t TLP2844 TLP2442)、TEC、DATAMAX、INTERMEC、AVERY、CITIZEN、SATO、TSC、GODEX、ARGOX、DEFMATE、BEIYANG….etc Thermal Printers. Enhanced abrasion resistance and outstanding back coat technology make it the right bar code ribbon. Clear Rotated Bar Codes, Sharp Text and Graphics, High Density Printing, Extends Print Head Life. Works with other printers using (CSO) INK SIDE OUT RIBBON. Applications include: Shipping Labels, Inventory, Retail tags, Tickets, Storage Labels, Warning Labels, Shelf Labeling, and Poly Bags. Recommended Label stocks: Coated Paper, Plain Paper, Synthetic Paper, Tag. For use with desktop thermal printers. Superior print quality at high speeds. These ribbons will be able to match the inches per second (IPS) of your thermal printer.
Resin-Enhanced Wax 4.33″x1476′ (Width 110mm x Length 450m),Core size 1″, with attached core (size 1″), ink out side..Before place order,please make sure to check if your printer can use this size of ribbons.
Difference Between Direct Thermal Printer & Thermal Transfer Printer
| | |
| --- | --- |
| Direct Thermal Printer | Re-Transfer Printer |
| 1. Direct thermal printer does not require thermal ribbons | 1. It requires ribbons rolls. |
| 2. Printed product life span is very low | 2. Very high even 4-5 years long. |
| 3. Direct thermal printer cost is very low | 3. Re- transfer printer cost is very high approx 3-4 times higher compared to direct thermal printer price. |
| 4. Direct thermal printer speed is usually very high. | 4. Very low speed compare to thermal ribbon printers. |
| 5. Print quality poor | 5. Sharp and crisp print quality with single & multicolored print |
What is monochrome printing?
Monochrome printing is based on only single color (black or any one color) or toner to produce a black & white effect using a base printing substrate.
What is the lifespan of thermal resin ribbons?
Resin ribbons are lost for 2-3 years when it is sealed. Once it is unsealed its expiry period is declined.
How to choose the right thermal ribbons?
Before by thermal ribbons you need to know what types of ribbons are and the difference between wax, resin-wax, and resin.
What types of ink does a thermal printer use?
A thermal printer uses ribbons, and other pinter required ink, cartridge, and toners.