Buy The Best Sublimation Printing Equipment
Deserving the best sublimation equipment is a positive signal for producing quality customized gift item printing. Sublimation printing is an easy printing method that involves a sublimation printer, dye ink, heat & press machine & expertise. Sublimation printing can be applied only on light-color surface polyester material or polyester-coated sublimation blanks.
Top Customised Products List That Printed with Sublimation Technology
There are countless sublimation blanks used to customize print such as Gifting Items, Trofee, Awards, Apparels, Event Celebration Material, etc. Looking for a highly profitable and low-investment business, you can go with sublimation printing.
You can start your gift printing shop, people search for gift item printers for gifting their loved ones, and people expense a high budget but expect extraordinary gifts.
We can sublimate to almost all types of materials like Acrylic, Fabric, Metal, Wood, Hard Plastic, etc. The sublimation blank products catalog is so big.
T-shirt
MDF Coaster
Mug
Mousepad
Sipper Bottle
Promotional Cap
Coffee Mug
Ceramic Tiles
Cushion Cover
Lanyard
Mobile Back Cover
Ceramic Plate
Key Chain
Customized Wall Clock
Photo on Stone & Metal
Apron
Badges & Name Plate
Beer Mug
Fridge Magnet
Graduation Sashes
Tiles
Flag and many more.
All these sublimation products are made of either polyester or polyester-mixed stuff. High-quality printable and oven-proof products.
Sublimation Printing Equipment | Sublimation Printing Machine | Sublimation Blanks
There is no more complication of sublimation printing technology, arranging raw materials, and the space you are required to start a sublimation business. Even you can start from your home space. There are a lot of youtube channels and sublimation printing step-by-step guides.
Electronic Device (Computer or Laptop) | Sublimation Printer | Sublimation Paper | Thermal Tape with Dispenser | Sublimation Ink | Sublimation Blanks | Heat Press Machines | Teflon | Sublimation Blank | Sublimation Coating etc. Make sure to choose the best sublimation equipment before buying choose the best products and go for the best recommendations and reviews.
1. Electronic Device (Computer or Laptop)
To start a sublimation printing business you are required first and foremost a desktop computer or laptop device installed with designing software tools like core-draw, photoshop, illustrator, etc. to create an intended design to be printed on sublimation blanks. Sublimation printing is a process of digital photo printing.
If you are not skilled in design software there are a lot of online design tools like canva you can create easily over there no required software skill just drag and drop.
2. Sublimation Printer
Sublimation Printer is the second most required equipment for the sublimation printing business. Sublimation printing required an inkjet printer but all inkjet printers are not compatible with sublimation ink.
The decision for buying a sublimation printer might be difficult to choose from a desktop sublimation printer or a commercial sublimation printer. it depends on your work volume. If you are a sublimation business startup go for the Epson Printer L130 or L805 would be better for you.
This mistake may create a printer head clogging or poor-quality print check out our best sublimation printer collection before buying it.
1. Desktop Sublimation Printer
Usually, a sublimation printer is a normal Inkjet Printer, to make your normal inkjet printer into a sublimation printer you need to load special Dye Sublimation Ink, used for design transfer from paper to another polyester or polyester-coated substrates.
Sheet Feed Printer A4 Size
Which printer is the best depending on the work volume, quality, and price? If you require a 100-200 print A4 size daily need, go for a sheet feed sublimation printer I think it would be better for you. For low-volume sublimation print jobs, EPSON L130 is the best sheet feed printer for gift printing shops, it consumes four color CYMK ink tank.
Sheet Feed Printer A3 Size
If you require a bigger size sublimation printout, the next size is A3, which works best for printing on the t-shirt backside, and cushion cover, is better in quality by having 6 color tank. Except for the bigger size, If your business involves big-size sublimation prints like Lanyard Printing, Sashes or Big Size prints on t-shirts go for EPSON L118 Sheet Feed Printer.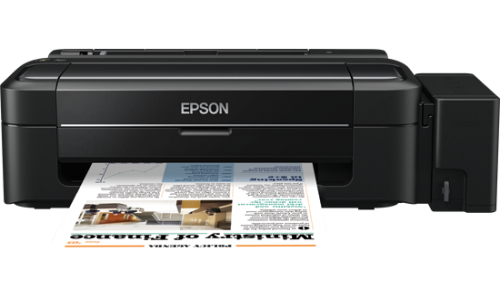 2. Large Format Printer
When it comes to printing in bulk quantity go for buying a large format printer 24″, 36″, and 48″ wide. Work best for 3D t-shirt printing, flag printing, and sportswear. These printers are heavy-duty and used best for commercial printing.
EPSON Sure Color P6370 can print up to 5 feet wide roll-to-roll sublimation printer, best for those who run a garment printing business. This printer is equipped with monochrome technology. The company provides a 1-year guarantee of the print head but uses original Epson sublimation ink.
"As a rule of thumb, higher count ink tank sublimation printer produces better results compared to the lower ink tank printer."
The third most important part of the sublimation printing business is choosing the right sublimation ink that produces vibrant and contrasting colors and printer-friendly ink. Sublimation ink particle size and printer head nozzle size have a close relation to producing a quality print result.
"As a rule of thumb, smaller size ink particle is better for printer head life and quality print for sublimation"
Our sublimation ink is 100% eco-friendly. Sublimation ink is available in 100 ml, 500 ml, and 1000 ml packs. You can set your budget according to your order values. You can buy ink online.
Most of all inkjet printers make ink brands themselves according to their inkjet print head's maximum productivity.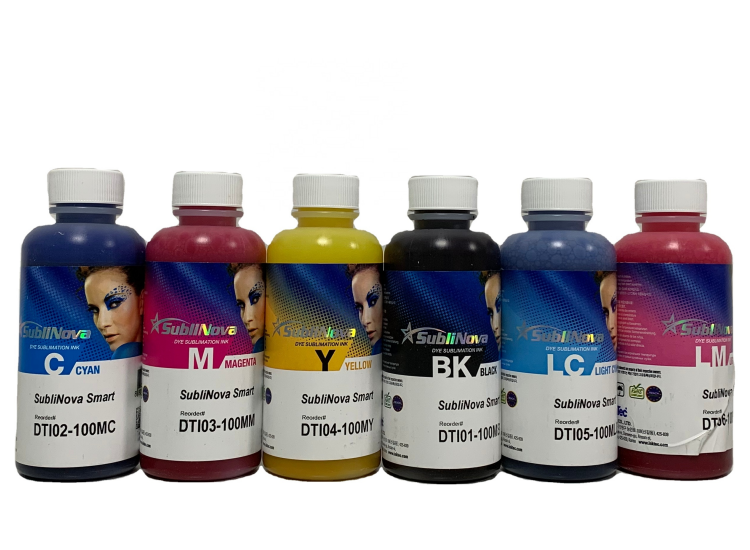 Best Brand Name – 1. EPSON, 2. Canon
Sublimation Ink Refill
Sublimation ink can be refilled easily you do not require to be more expert in this regard you just need a syringe and refill bottle, you can do it yourself just you need to read the guide on how to refill sublimation ink.
A sublimation paper's role in sublimation printing is carrying sublimation ink from the sublimation printer to the sublimation materials. Once your printer is ready to print, feed the best sublimation paper. Quality sublimation paper plays a major role in terms of quality printing products. Sublimation paper for desktop printers required 100 gsm and more to produce a better result. The ideal thickness of the sublimation paper is 100- 120 gsm for a desktop sublimation printer.
The thicker and high polyester-coated paper ink transfer percentage is higher compared to low gsm paper and thin polyester coating. Usually, the best transfer paper help to transfer ink from paper to substrate up to 95-98% of sublimation ink.
Better polyester coating paper help to produce better quality sublimation products.
Sheet Form Sublimation Paper
Each Packet has 100 sheets of A4 Size, 100 gsm high quality buy online
100 Sheet A3 Size, 100 gsm and 120 gsm best quality paper for small size, desktop printer
Roll Form Sublimation Form
Sublimation Paper Roll Sizes come in 3 feet, 4 feet, and 5 feet wide, full length 200 meters. Best used for large format Epsom Printer.
For mass production of sublimation products, you must buy roll form sublimation paper as a large format printer able to print 10,000 square fit daily capacity. If you have a huge customer base or running a custom garment shop go for a roll form of sublimation paper.
Heat press machines are used for various types of printing techniques such as HTV Printing, Sublimation DTF Printing. and DTG Printing technology.
"The heat press machine has inbuilt a digital heat temperature counter that works heating and pressing both at a time during sublimation, heat for activating dye-ink molecule to the sublimation product and pressure to cool down the gas molecule into the substrate pore."
There are mainly 3 types of sublimation heat press that finished all types of sublimation printing requirements. Different types of sublimation blanks required different heat press products.
1. Flatten Heat Press
There are two types of flattening heat presses. 1. Clam Shell 2. Swing Away. Before buying go through its advantage & disadvantage. Available in different sizes, choose from the most requirement of sublimation products 12'x12", 16"x16", and 16"x24" are ideal sizes for heat presses.
1. Chem Shell Heat Press
Both types of heat press machines have their own advantages and disadvantages. Clamshell is a type of heat press before positioning the substrate on the plate, heating element plates move up vertically. It requires minimal space to operate. But hard to place a big-size substrate on the plate. Best for thin sublimation blank printing.
2. Swing Away
The heating element plate moves around 360 degrees with an adjustable heating plate up and down for thicker sublimation blanks. Easy for positioning sublimation blanks on the plate. Best for thin and thick sublimation blank printing. The biggest drawback is it requires huge space and bumping up during sublimation.
Note: The best buying decision depends on what type of product you are planning for sublimation printing prominently.
2. Cylindrical Heat Press
Heating elements are built in the cylindrical form the best used for cylindric sublimation blanks like Photo Mug, Sipper Bottle, Beer Mug Etc. Different size dia sublimation blanks required different heating press attachments to work properly. Like 11 ounces (325ml) & 15 ounces (450 ml) separate heat press machines work the best.
3. 3D Heat Press
There are a lot of sublimation blanks that have a curved shape and needed to print covering the maximum space printed like a plate, mobile back cover, and other different shapes of a ceramic mug that can't be printed round heat press and flat heat press that can be processed easily in the 3D sublimation printing process.
3D sublimation printing machines work on the concept of a vacuum system to grip the sublimation paper on the substrate.
Mobile Cover, Ceramic Plate, and Plaques are a good fit for it
6. Teflon Sheet
Usually, a Teflon sheet comes with a 0.2mm thick & flexible material in roll form. It is used to prevent heat & burn your finger & fabrics during sublimation printing. It withstands heat up to 600-degree temperature. 20″x16″, 24″x24″ you can buy.
7. Heat Proof Tape and Dispense
You are required to fix the sublimation printed paper onto the sublimation blank before placing it into the heat press machine. Buy sublimation heatproof tape best suited for you. This thermal tape can face up to 600 Fahrenheit temperature. Available in different sizes 0.25″, 0.5″, and 0.75 inches. Buy the best heatproof tape you are looking for.
8. Paper Cutter
You are getting a sublimation printout sheet in a big size and need to cut it in a specific size so you are required a paper cutter to help it work fast. Hand press paper cutting machine imprint scale help to cut proper size.
9. Heat Protective Gloves
For safety reasons, while you are working on the 3D sublimation printing you must have a heat-proof glove. Gloves are made of silicon materials and are able to withstand high temperatures up to 600 degrees Celcius.
10. Sublimation Coating
Sublimation coating is a type of chemical made of polyester in the form of spray used on the cotton fabric to fix sublimation ink properly making bonds with fabrics. It is available in packing of 100 ml and 200 ml.
Sublimation Print Reliability
Sublimation printed colors are washable, permanent, fade-proof, crack-free, and anti-peel-off quality. Used for outdoor & indoor purposes and safe in the heating atmosphere up to 200 degrees Celsius. This is why its popularity is increasing day by day.
This process is well known for the intricate design transfer on polyester-based fabric or any polyester-coated hard stuff. The heavy value of polyester-coated materials produces better quality printing. The thicker and equal coating on the substrate produced better-quality photos or text.
Sublimation Printing Future
Each and every printing technology have a unique feature which is why it is popular. It is the demand of time a new technology comes and old technology declines. As well as 24 years of experience a few unique features will carry on sublimation printing in coming years like vibrant color, permanent design imprint, no scratch, peel-off, etc.
Sublimation Printing Alternate
This printing application started in 1957 first time in Japan. Since then its use is increasing exponentially. There are many more options for customizing printing like UV Printing, DTG Printing, and Laser Engraving but are known best for specific types of material, ink, and print quality.
Start a profitable sublimation printing business & shop online for the raw best sublimation material for same-day delivery on selected items or more products get delivered within 2-3 days.
If you are a mess about buying a sublimation printing machine do not hesitate to call or email me. I assure you to buying the best sublimation equipment.
How to Do Sublimation Printing?
Sublimation printing is just fun. The principle is based on transferring dye ink (design) from one substrate to another substrate by using special types of paper for carrying dye ink and adding heat and pressing both at a time for a specific time period.
What Can I Sublimate Onto?
Sublimation can be done on any fabric and hard stuff. The condition is substrate must have to withstand heat up to 300-400 Fahreignheit temperature, light color surface, and either be made of polyester or an upper layer coated with polymer.