Rubber Stamps Business Opportunity
Rubber Stamps Business in India provides a huge opportunity. The rubber stamp-making business is versatile and it runs flawlessly throughout the years it will still be continued till the document is 100% digitalized. I think it is almost impossible in the coming next 20- 30 years. There is a high demand for rubber stamps in schools, hospitals, and private offices.
Except, when we submit a document to the bank, govt. organization or legal authority we required a stamp. Typically, we search for the rubber stamp maker nearby & who can verify my documents as well.
There are a lot of businesses (Notaries & Documentation Services) that professionally make your document valid by stamping & authorized signature the entire day. Another way we can say before starting a new business or profession all we need is a rubber stamp maker.
People also search for Promotional Gift Printing Machine
Rubber Stamp Business Model & Strategy
Before starting a customized rubber stamp-making business, you need to create a crystal clear business plan to find out a prime location shop where customers came or reach out online rubber stamp-making store and get delivery to their doorstep. If there is a budget problem you can start from home and approach it online through social media or website. Choose the best fit for you.
Rubber Stamp Machine Investment
Rubber Stamp-Making Business falls into small & medium enterprises categories. Do not underestimate the stamp-making business. You can start your business by investing a sum of rupees 50,000/- 1,00,000/-by purchasing stamp-making machines and blank raw materials. Through scaling up your rubber stamp-making business you can touch the sky. There is a lot of online rubber stamp-making website that sell their stamp nationwide and earn good enough money. There is a huge marketplace to sell online rubber stamp-making businesses in India.
You Can Start Rubber Stamp Businesses From Home
You do not require a huge space, big investment, teamwork, power supply, and industrial space in terms of ventilation. The Stamp-Making materials & used ink are eco-friendly to nature and humans. You can start yourself and do not require a team.
Required Skill for Rubber Stamp Making Business
Making a rubber stamp does not require a technical education or degree. You just need computer basic knowledge, a computer device, a laser printer, raw materials, a little space, and stamp-making machines. Start from basic and increase your number of sales. re-invest your earnings into high-tech laser engraving rubber stamp machines. If you are not good at the design you can make it with the help of an online stamp design tool.
Stamp Making Equipment & Raw Materials
Stamp Making Machines (Flash Machine, Polymer Stamp Making Machine)
Computer or Laptop Device
Power Supply
Liquid Polymer
Rubber Stamp Hardner
Polymer Cleaner
Plastic Handle
Foam Sheet
Exposure Unit
Developing Tray
Ink (Water and Oil-Based)
Butter Paper, Transparent PVC Sheet, Tissue Paper, Double Side Tape, rubber stamp fixer, and Sheet Cutter.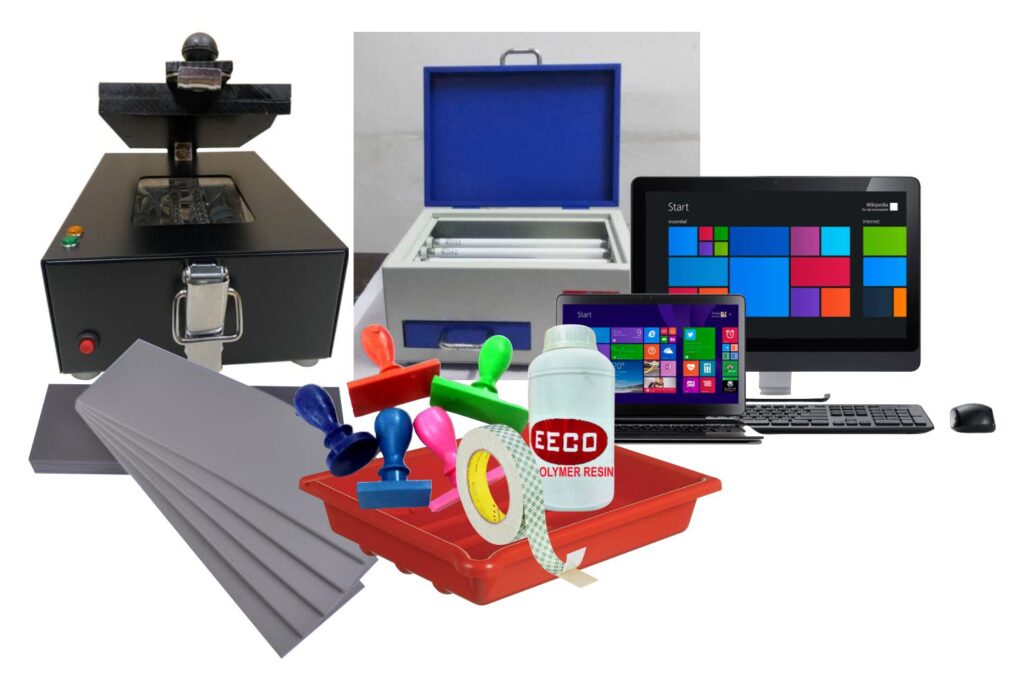 Rubber Stamp Basic Price in India
Rubber Stamp Price in India at a retail shop starts from INR 120 to INR 800 for each stamp. It depends on the quality of the brand material, impression count, inked stamp, without stamp and size, etc.
Personalized Rubber Stamp, Luxury Pen Stamp, or Pocket Stamp Cost Rs. 500 & Above.
The manufacturing cost of a stamp comes approx 30%-35% of the sale price. There is a huge profit in the stamp-making business if it is done smartly.
There are different tastes of customers in the market, and if you are able to feed them according to their full requirements that would be best practice & you can earn enough money. Here you have to be well up-to-date and equipped with stamp-making machines & raw materials.
1. FLASH STAMP MACHINE
Flash stamps are the fastest way of making stamps with small details & unmatched quality. It is known as PRE-INK STAMP. I.E. it contains ink itself with the mechanism of spring holder blanks. In this process, after the creation of the rubber dye is dipped into an ink tab for a period of 2-3 hours, then taken out once the ink is absorbed and mounted in stamp blanks.
There is no need to carry an inkpad and keep it along. Easy to make within 10-15 minutes. Pre-ink stamps are high-quality stamps, 40-50 % of customers ask for them. This type of stamp is known as the fastest stamp-making machine. This type of stamp is personalized and has a slow stamping process. These stamp's sale price starts from rs 250 onwards.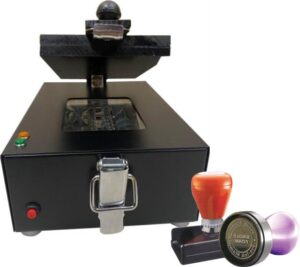 2. Self Ink Stamp
Self-ink stamps are heavy-duty stamps. Most likely it is used in bulk stamping as well as in post offices or logistic companies or institutions. Typically, there are 2 main sections in this stamp 1. inbuilt ink pad (replaceable) and 2. intended content dye to be stamped. Before making impression on the document There is a unique mechanism between the dye & the ink pad when we push down the handle, the dye moves up to pick the ink from the ink pad section, dye returns back with ink to make an impression on the document each time automatically.
The selling price per unit starts at 250-300 rupees and onward. Prices are subject to types of stamp blanks quality and size based.
3. Polymer Stamp with Separate Ink Pad
A polymer stamp with separate inkpads is the cheapest stamp used. Usually, the dye is fixed to the plastic or wooden handle with help of glue. Before stamping on documents it needs to add ink from an external source ink pad each time.
This is the cheapest stamp price in India. Making a dye for a single stamp is a time & money-consuming process. Usually, the number of orders is received and then clubbed into one sheet butter sheet and then processed at a time to save both money and time.
Stamp-Making Machine Price in India
There are 3 types of stamp-making machines starting from 15,000 to 100,000 with different types of making applications. Choose the machine according to the majority of customer demand stamp quality.
Rubber Stamp Making Order Authentication
You are a new business entrepreneur, and you must have aware of stamp misuse, make you are executing rubber stamps online, and keep your eye sharp on the stamp content. When you suspect it, ask for the original identification of the concerned person.
If possible avoid school, govt., and finances could be fraud, so when you suspect keep your order cancel or refuse or get a purchase order from the concerned authority.
Types of Stamps We Can Make With These Stamp Machines
Almost all types of stamps used in documentation we can make with 2 types of stamp-making machines 1. Flash Stamps 2. Polymer Stamp Making Machine.
Pre-Ink Stamp (Round Stamp, Rectangle Stamp, Proprietor Stamp, Director Stamp)
Self Ink Stamp ( Round Stamp, Rectangle Stamp, Proprietor Stamp, Private Limited Firm)
Except for the common seal, You can create all types of stamps. Typically, common seal stamps are low-volume used seals.
Initially start making the common seal from our source once your stamp-making business is established then go for Common Seal Stamp Making Machine. The reason behind it is machine cost is high and common seal market demand is low.
Once you buy a product our team is Printing Machines ready to help your life online as a professional printing tech.
Difference between common seal & rubber stamps
Common seals and rubber stamps both seem similar but there is a huge difference common seals create embossed impressions without ink and rubber stamps make an impression with an inked design.
Q. How much money we can earn from the stamp-making business?
Ans. It depends on your stamp-making marketing strategy to reach out to customers nearby your business location exists or in remote areas customer. Today in the digital world people are earning more than hundreds of thousand of rupees per month working from home.
Q. How much does a flash stamp-making machine cost in India?
Ans. Different bands have different prices. You can get between around 10,000 to 20,000 rupees for popular brands.
Q. What is the benefit of rubber stamps?
Ans. There is countless benefit of rubber stamp making.
— Document authentication.
— Easy to short out the document.
— Primary tool for brand awareness.
— Make your work done fast.
— Professional presentation to the customer.
— Security & Privacy Perspective.
Q. How much profit falls in the stamp-making business in India?
Ans. If we compare ROI, you will find a profit of 200%-300% in the stamp-making business. Make sure you need to grab the customer's attention to establish a rubber stamp-making business.