What is mini offset printing machines?
Mini Offset Printing Machine
Mini offset printing machines are used almost for single-color & short-run printing products as well as pamphlets, receipt books and bill book printing, etc. Add more color to the print product required a new master plate and again print run. Products made are of low print quality compared to big-size offset printing machines. Most of all mini offset printing can print maximum sizes up to A3 and Min. A5 Size Paper. Project print setup cost comes very low compared to multicolor offset printing machines.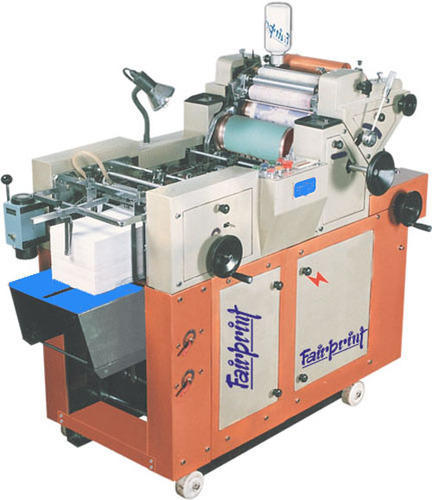 Still 1990-2000 decade, these stationery products were used to get printed with letterpress printing machines. There were a lot of inconveniences that solving mini offset printing machines.
Mini Offset Printing Machine Raw Materials:
Master, Master Punching Machine, Master Heating Machine, Paper Cutting Machine, Computer Device, Laser Printer, Petroleum Oil Based Ink and Blank Paper, Air Compressor, Rubber blanket, Impression Roller, Deletion (unwanted color spot removal), Sponge Master Cleaner. These materials can be purchased from industrial chemical suppliers.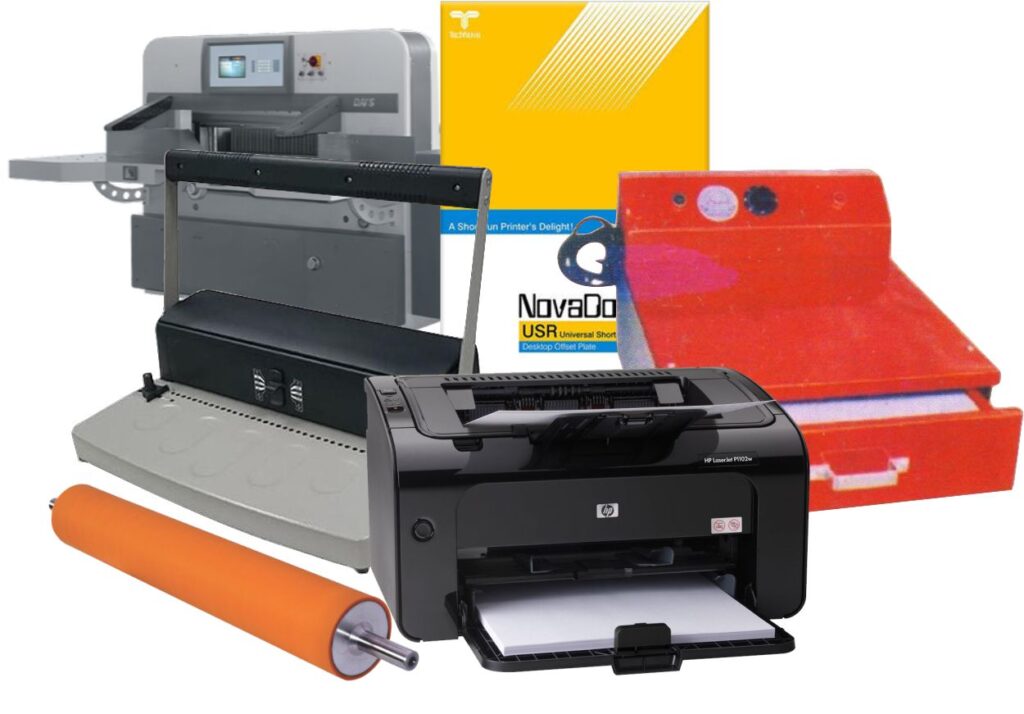 Mini Offset Printing Production
Mini offset printing machines can produce a quantity of 3000 to 5000 copies per hour. Paper thickness, size, and printing content also affect print production. It is also known as a single-color printing machine. Collage posters, single-color pamphlets, receipts, bill books, and voucher pads are mostly get printed through mini offset printing machines. The ideal paper thickness in mini offset printing machines is 60gsm-250 gsm the best print production. Avoid using paper thickness under 60 gsm because lower gsm gets wasted more.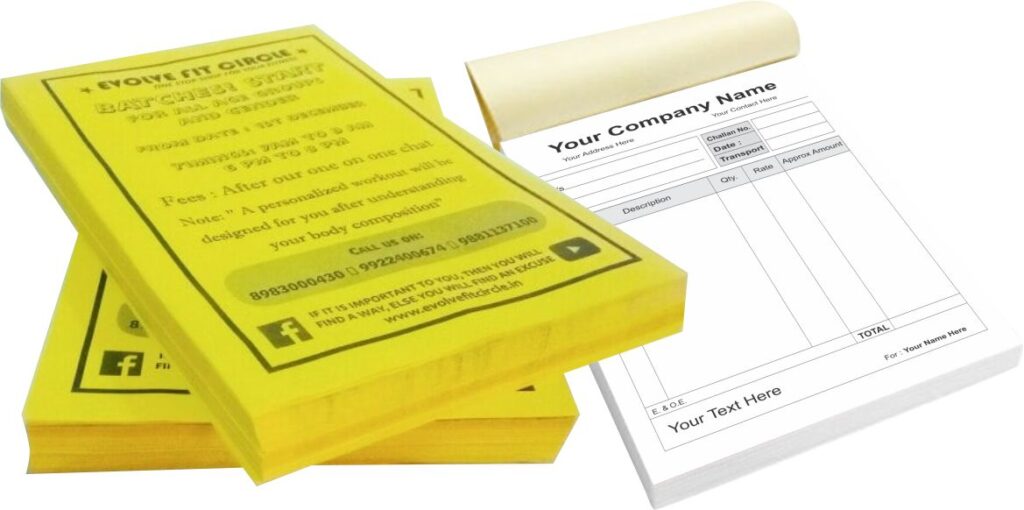 Master Paper & Its Heating Time:
Making a plate for printing in mini offset printing machine sizes come in legal and A3. You need to get a printout through a laser printer on the master and it is heated at 170 degrees for up to 10 minutes to make the content harden.
Offset Printing Machines Printing Principle:
Mini offset printing machine technology is based on "water and oil do not mix". The paper moves through the 3 vertical moving chains from paper feeding to finish print paper. Mini offset printing machines required petroleum oil-based ink.
Key points of the best mini offset printing machines
There are a few major parts of the machine known as the ink tank, water tank, water roller, ink roller, paper feed space, and paper conveyor. Each mini offset printing machine part plays a major role to produce a quality print product.
You need to make a master printout of your intended graphic design in black and white to make laser ink harden it is heated up to 170 degrees temperature for up to 10 minutes. Doing this ink became hard and do not wash when water is applied to it.
Feeding Paper Capacity
You can feed 2000 -3000 paper sheets at a time. Paper quantity varies from paper to paper thickness. Higher paper thickness leads to a lower quantity. The paper moves up slowly with the help of a compressor.
Fast Mini Offset Printing Products
Single-color printing products like wedding cards, application forms, single-color pamphlets, bill book receipt books, bill books, notepads, order forms, register copies, etc.
Making paper carry bags, nonwoven, mini offset printing is a boon.
Best Quality Mini Offset Printing Machines:
The major factor of quality paper printing in offset printing depends on the number of ink rollers used in machines. A higher number of ink roller mix ink equivalents helps betters the print quality. Rubber blanket and impression roller plays a vital role in better-quality printing.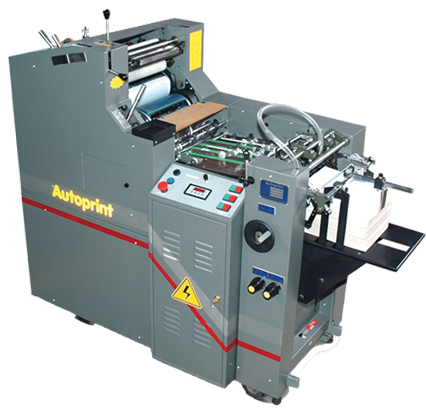 Mini Offset Printing Machine Cost in India:
Mini offset price starts from rupees of 3,00,000 to 9,00,000. It varies from brand to brand. The main factor for higher printing machine prices is based on the number of ink rollers, rubber blanket quality, and power of the motor used.
Printing Ink Cost
The ink used in mini offset known as PMS costs between Rs. 500-700 per kg
Offset Printing Business Scope in India
The offset printing business declined a few years back after the booming internet market and digital printing plate form. Where digital printing cost goes higher another advantage is that there is no basic setup cost as well as in the offset Printing business.
Offset printing is the cheapest printing method it will be run for a long time till the entire transaction became paperless. There is another printing business that has boomed during this decade as well as UV printing machines and laser engraving machines.
How differ a mini offset printing machine from an offset printing machine?
"Oil and water do not mix" and firstly transfer from the plate the rubber blanket and then the intended paper stuff.
The major difference among them is a single plate run in the mini offset and 4 plates in offset printing at a time.
Mini-offset machines required a polymer plate whereas offset printing needs a metal-burned-content printing machine.
Mini offset printers are made for small-size paper printing and offset printers can be printed a bigger size paper from A3 to A0 size.
Mini offset printer speed is approx 1/3rd of an offset printer.
Offset Printers need a powder for fast ink drying but not in a mini offset printer.
Offset printer quality is multi-time better compare to the mini offset printer.   
Mini offset needs PMS ink and offsets required PMS and CYMK format printing.
How does mini-offset printing work?
Let's understand in a few easy steps.
Artwork Preparation:  You need to make a design of the content to be printed into the designing software like CorelDraw, photoshop, illustrator, etc. Get the laser printout on the master (heatproof plate).
Heat up Master (heatproof plate): Heat the black & white laser printed master (Plate) at 170 degrees temperature for up to 10 minutes. By doing this ink became hard and do not wash away during printing when water is applied to it.
Master Punching: You need to punch the master to hold in the machine master roller
Switch on printing machines: Before printing need to mix ink properly on the ink roller evenly
Paper & Master Alignment: Place the paper alignment according to the master and fix it.
Keep Your Blanket Neat & Clean: Plain, without any scratch on the rubber blanket, neat and clean produce a better print on the paper.
Impression Cylinder: Pressing leaver of the impression roller printing get started on the paper with the help of a rubber blanket
Print Counter: Paper starts passing one by one between the rubber blanket and impression roller with the help of a moving chain conveyor on the wheel wait till the counting is finished.