Buy the Best Sublimation Paper Heat Transfer at Affordable Price
(This is an affiliate post, we might get some affiliate commission if you buy with this link, at no extra cost to you)
When it comes to sublimation paper heat transfer printing there are two types of paper 1. Sheet Form 2. Roll to Roll Sublimation 1. Sublimation Printing. This printing application involves a sublimation printer, heat press machine, and sublimation paper.
2. Another heat transfer printing technology involves special types of media with backing heat-sensitive adhesive is used known as HTV (heat transfer vinyl).
Except for quality sublimation ink, the Best Sublimation Printer also play a crucial role in making customized product sublimation printing.
We are going to discuss here only the Best Sublimation Paper For Heat Transfer Sublimation Printing.
Sublimation Paper
Sublimation paper is used in sublimation printing technology for the customized gift & textile print industry. A sublimation paper works here as an ink carrier from the sublimation printer to the printing materials. Sublimation printed products are well known for vibrant colors and long-lasting imprints. Highly recommended sublimation printing on ceramic, wood, glass, and polyester fabric-made materials printing.
Sublimation Paper and Its Uses
Basically, sublimation paper help to carry the intended design (dye-sublimation ink) from the sublimation printer to the substrate. It looks like just regular used paper that comes with a thickness of 80-120 gsm. Make ink transferable on the substrate it is coated with a special polyester/polymer chemical single side or both sides.
Once a sublimation paper is printed with sublimation ink, it keeps ink on the surface temporarily, at the time of using a heat-press machine at an amount of 300-400 Fahreignheit temperature and 1-3 minute time, the ink molecule activates from the sublimation paper to gaseous form and transferred on the substrate and became a permanent part of the substrate.
A-SUB Sublimation Paper 8.5×11 Inch 110 Sheets
Pros
No fracturing, Fast dry
Transfer rate≥98%
Apply for white or light colored high quality polyester, material with cotton content≤30%, premium ceramic&tile, phone case&metal plate
Sheet Size: 8.5″ X 11″, 110 sheets/pack
Only work with sublimation ink.Perfect for DIY your Holiday gift
About us
We are a professional supplier of customized products.
Base on over 20 years in the customization industry, we have formed a mature R&D team, we could supply any material a craftsman needs.
Our mission
We are committed to be a supporting role to service our customer.
Customer success is our success!
What makes our products unique?
We constantly listen to customer feedback, and then quickly improve the quality and create more products.
We could customize products according to customer needs.
Printers Jack Sublimation Paper – Heat Transfer Paper 100 Sheets 8.3″ x 11.7″
Pros
SHEET SIZE: Printers Jack Sublimation Paper 8.3″ x 11.7″, 100 sheets. Print on the white side of the dye sublimation paper
COMPATIBLE: Our inkjet sublimation paper is compatible with Epson, Ricoh and Sawgrass Inkjet Printer
HIGH QUALITY: Over 98% transfer rate, NO fracturing, NO fade, fast dry
EASY TO USE: The sublimation paper heat transfer is easy to use, easy to apply any design from your computer to printer to fabric
UNIQUE GIFT: Our sublimation transfer paper can be used for T-shirts, ceramic mugs, pillow cases, phone cases, canvas bag, mouse pads
A Full list of applicable materials:
1. Fabric with Cotton ≤30%: backpack, beanies, boxer, dog shirt, face mask, fannypack, fiberglass, gaiter, jacket, sequin, textile application, underwear, bag, canvas, cap, mouse pads, non-cotton pillow, pillow, sock
2. Ceramic & Tile: glass,tumbler, flower vase, ceramic mugs, ceramic plate, ceramic tiles, cup, mug
3. Metal Plate(Chromaluxe): clock, licence plate, Metal plates, key chain, phone case, tile
4. Boards (Wood): hard boards, cutting board, photo panel, plaques, wall panel
Things you should notice before use
1. Colors after printing may look dull. But the colors after sublimation will look much more vivid. Please finish sublimation and see the color result before change any setting.
2. Please Avoid storing in high temperature, heavy wet and direct sunlight.
3. They are only for light colored or white polyester fabrics and polyester coated items. Hard objects must be coated.
4. Its' a good idea to use an absorbent cloth or a non textured paper towel behind your transfer to absorb excess moisture.
5. Each heat press, batch of ink and substrate will react a little differently. Printer setting, paper, ink, transfer time and temperature, substrate all play a role in the color output. Trial and error is KEY.
6. Blowouts are generally caused by uneven heating, excessive pressure or overheating. To avoid this issue, use a Teflon pad to cover your transfer and lessen the variations in temperature.
7. No ICC setting, Paper: high quality plain paper. Quality: high quality. Then click on "more options" tab. Select CUSTOM for color correction then click ADVANCED and choose ADOBE RGB for color management. 2.2 Gamma.
8. If you haven't used these sheets before, we would suggest a practice on some scrap fabric before committing to your best t-shirt.
Hiipoo Sublimation Paper 8.5×14 Inch
Pros
INSTANT DRY & HIGH TRANSFER RATE: Hiipoo sublimation paper 8.5×14 comes out of the printer completely dry
NO GEAR PRINTS & SMOOTH PRINTING: 120G Hiipoo sublimation paper gives good elasticity
EASY TO USE: [1] Print the image using an inkjet printer with sublimation ink, and check the "Mirro Image" setting
WIDE APPLICABILITY & UNIQUE GIFT: With Hiipoo sublimation paper you can transfer text, images onto light-colored fabrics with ≤ 30% cotton or polyester
PACKAGE CONTENTS & WARM TIPS: The package contains 110 sheets of Hiipoo 120g sublimation paper 8.5×14
Yorkker Sublimation Paper
Top Pick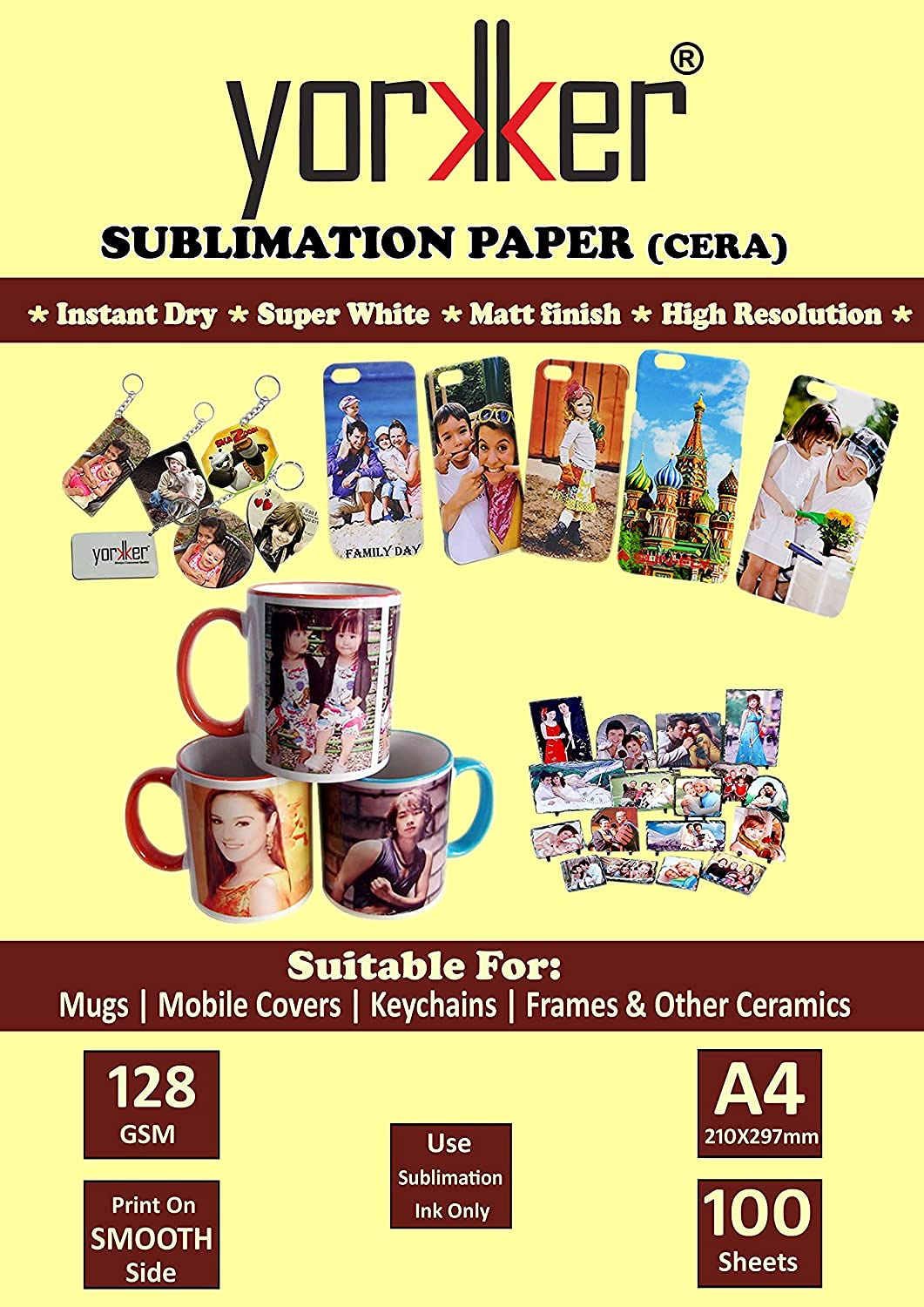 Pros
Yorkker by Pik It Ezy is a Reputed Brand – 128 Gsm A4 – 100 sheets
Instant Dry Paper, Matt coated
Excellent Transfer Efficiency
Best Suitable for Mobile Covers and cases, Keychains & Ceramics like Mug, Tiles, Plates etc
Sublimation Printing Business:
Create, Print, Press! Is it Really That Easy?
Yes, it really is that easy, and it's fun too. All you need is an inkjet printer with sublimation ink to design, heat sublimation paper on which to print your transfers, polymer-coated blanks to which you can transfer your designs, heat press to facilitate the transfer of the ink to the substrate, sublimation really can be that easy!
High Color Reproduction
The colors come out very crisp and clear, can keep a long time after printing, bright color, ensure high-quality printing of sublimation.
Wide Range of Applications
The heat transfer sublimation paper works with a ceramic mug, tile, phone case, key chain you can sublimate many things you want!
Make a Fun and Meaningful Gift
With a sublimation printer paper, you can design and create a special gift that can't be purchased off the shelf, your products will turn out just beautiful and be treasured forever! There are people out there who are looking for something unique to give as a gift, you can sell sublimated items for holiday, birthday, anniversary, Diwali, Valentine gifts, and you can also start your own business and make money from your sublimated items!
Best Sublimation Paper Cherectorstics
Choosing the best sublimation paper has a few key points that need to be noted before buying.
High ink releasing paper (more than 98%).
The paper quality must be fast-drying ink quality.
Wrinkle-free paper, during sublimation printing, may be paper corners curled up.
Sublimation paper must be compatible with your sublimation printers.
Paper is able to transfer ink on any type of sublimation blank like the ceramic cup, t-shirt, MDF, etc.
No cackling during print.
No back-gassing (
Sublimation Paper Availability
Sublimation papers are available in roll and sheet both forms for using desktop and large format printers. Sheet feed paper packing is available in 100 sheets of each pack having a thickness of 100-120 gsm for desktop printer and paper roll 50 meters./100 meter long 24″ to 74 wide for large format sublimation printer.
Sublimation Paper Buying Tips
Choose the right paper size that can fit properly to the sublimation printer.
Make sure you are buying paper for desktop sublimation printers or large format printers.
Is this paperwork for all types of substrate?
The paper should not bleed ink.
Some sublimation paper are single-side coated and some on both sides justify before buying.
100 gsm and above paper used for desktop sublimation and below for roll-to-roll sublimation printer.
Low GSM vs High GSM Sublimation Paper
There are 2 types of sublimation printers 1. Desktop Sublimation 2. Large Format Sublimation Printer. The coating of chemicals is done equally on both papers in terms of producing the best quality sublimation print.
A high-speed printer required a lower gsm sublimation printer & low-speed printer required high GSM sublimation paper between 100-120 gsm ideal thickness. EPSON L130, EPSON L850, and EPSON L118 are best for it. Where A4 for Model EPSON L130 & L850 and A3 For EPSON L1800.
Sheet Form Sublimation Paper
Sheet form sublimation paper is used for sublimation printers that come in various sizes and a pack of 100 sheets each. Standard sizes are A4, 11″x17″, 13″x19″. EPSON L130, EPSON L850, and EPSON L1800 need a regularly required paper. A4 size sublimation paper single side and both side printable.
Roll Form Sublimation Paper
70 gsm-80 gsm sublimation paper is best for large format sublimation printers. 24″, 34, 44, 54″, 64″ and 74″ wide sublimation roll is the best for EPSON Sure 570 series.
Best Sublimation Ink Brand
Ink Well
Subli Ink
Siser Well
Sublimation Paper Heat Transfer for Mug, Pillow Cover, Polyester Fabric,
Sublimation Paper For Cotton Fabric
Usually, sublimation ink works only with man-made fabric like polyester, nylon, spandex, etc. because the fabric layer has small pores, and during the sublimation printing process, dye ink molecules are moved to the fabric surface.
Note:
1. Natural fabric (Cotton) has no pores to accept dye sublimation ink.
2. Sublimation ink is a transparent ink do not perform on dark color fabric.
3. It performs best on 100% polyester, nylon, and spandex and can be applied Polly-cotton (60/40)
The printing machine tech team provides free cost consulting for print business entrepreneurs.
What is the role of sublimation paper in the sublimation printing method?
The role of sublimation paper in sublimation printing technology, carrying design (ink not absorbed) from the sublimation printer to the printing materials.
Is sublimation ink printed paper look faded?
The sublimation ink printed on the sublimation paper looks faded. As soon as heat is applied for transferring ink to the substrate color looks very bright, vivid, and permanent.
What are the basic factors of sublimation paper that affect sublimation print quality?
1. Low gsm paper curled during print on the paper and may damage the print head.
2. Un even coated paper might produce an ink-missing print on the substrate.
3. Lower ink transfer paper produces a lower print quality.
Why does solid sublimation ink transfer onto the substrate without converting it into liquid form?
A sublimation paper surface contains a then layer of polyester-coating single side or both that prevents solid ink from converting into liquid during sublimation printing.
How many times we can re-print a used sublimation paper?
The best quality sublimation paper transfer rate is 95-98%. That means once a sublimation paper is used in a heat press machine a few inks remain on the sublimation paper. If it is reused on the next substrate, produced a lower-quality print. We do not recommend it.