15 Benefits of LED UV Printer
LED UV Printer & Technology
There are uncountable benefits to using LED UV Printers. Led UV printing technology came into service 20 years back. due to fast & instant ink drying mechanism technologies, printability of a variety of blanks materials, high-definition print quality, and prolonged print fade, since then adopted worldwide. There is a huge demand for flatbed & roll to roll LED UV printers in the market.
Strong ink adhesion
Controlling multi-pass printing
Variable ink drop size setting option
Glossy print finish
Instant ink-drying mechanism
Digital print process
The tactile effect is the top most reason to continue increasing customer demands.
LED UV printing machine works as the best option for print-on-demand services.
Long-lasting periods
Energy saver, as it does not require running heater/fan to dry ink.
"UV ink dries in LED Printer within seconds of time due to lit has led enabled light"
LED UV Printer Market Demand
Led UV printer demand is increasing exponentially. The printer head works based on Piezoelectric Technology and uses pigment ink. Special mechanism of instant drying, a long range of product printability, and indoor or outdoor print uses. Almost zero % of ink wastage. Whatever the reason industry demand is high.
The average printing speed of UV printers approx 50-60 square meters per hour is possible due to the instant drying mechanism and variable ink drop sizes printing make it possible on rough and uneven surface products.
Other printing methods have many pros and cons, some of them are ink drying problems, smudging, sooner color fade problems, scratches on the print, unable to print on an uneven surface, etc. A LED UV printer can solve all these problems.
Best Option for Outdoor Advertising
Most of all types of adverting materials like glow signboards and billboards commonly used eco-solvent ink (lasting up to 6 months) and solvent ink (2-3 years) which fades faster. Compare to UV-printed ink which lost up to 9-10 longers.
LED Printer Makes Print Feasible on Dark Surfaces Stuff
Mostly, all color printing application uses TRANSPARENT INK (CYMK format) resulting in CYMK ink does not produce a white color during the print process that makes the design visible on dark background.
But in LED UV printing, except for the CYMK ink tank, inbuilt 2 additional ink tanks of white color make printing feasible on dark background materials. This happens because, before printing the design first white of all-white color printing is applied to the intended design printing area.
Only Screen Printing ink facilitates opaque color visible on darker stuff.
LED UV Printer Sizes
LED UV printers are available in various sizes to full fill your printing needs, either small or big size products. Customized gift item printing required a small size printing machine, as well as A3 or A2 size best fit for gift box packaging, whilst signage printing required a big size flatbed printer likewise 8'x8′ or 8'x4′ sheet can be printed at a time.
LED UV Printer for Different Shapes Product
Each LED printer is not fit for all shape products printing. Specific shape product bulk UV print required a specific product-size printer. Some product shapes could be flat (plastic sheet), or cylindric (pen, shipper bottle) to fix printing on it required a special platform for it.
Leading LED UV printer manufacturers are making custom shape printers as per customers' day-by-day increasing requirements.
People also search for Sublimation Printing
Small Size UV LED Printer
There are a lot of printers available for printing on small products like promotional pens, mobile covers, and electronic products with no required commercial and huge space for making promotional gift items colorful printing. You can start your customized printing business from your home.
A4 and A3 sizes printers are the ideal sizes for Customized Gift Printing Machines.
Different shapes of substrate required a specific LED UV printer for mass production. Your substrate's shape could be Cylindrical, Even Surface, Uneven Surface, Very Thin, or Thicker up to 3″ in height you can get print your products hassle-free and with long-lasting fade.
Except for instant printing, UV-led printers do not require a basic print set-up cost and enough time for print processing likewise the traditional printing processes.
UV Printing technology machines make products printable large range stuff like stones, mobile covers, tiles, glass, wood, rubber, plastic, and paper, even on high glassy surfaces by applying premier coatings.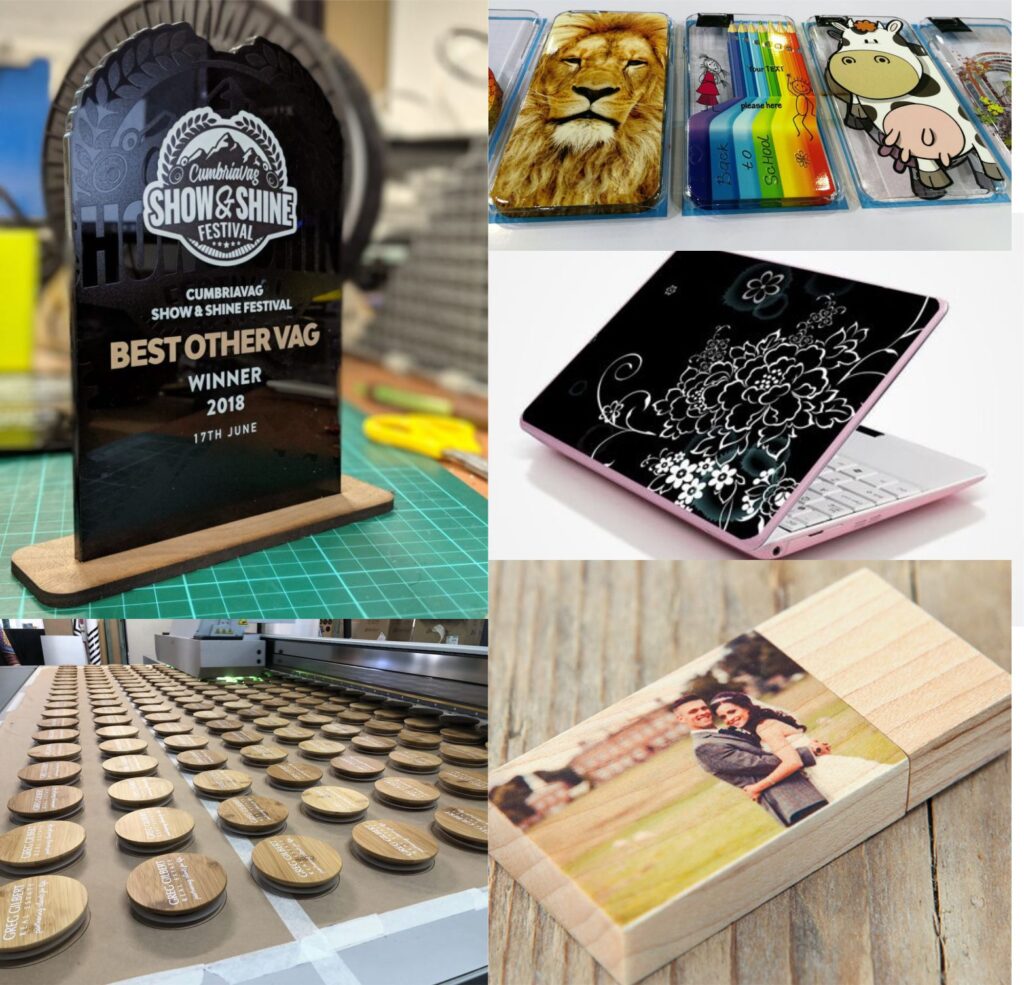 In the Year 2022 became the most popular printing method. Except for commercial signage, and textile printing, there is a big list of promotional products that get printed through UV technology.
Big Size LED UV Printer
When it comes to printing on Signage, Wall Branding, Home Decoration or Commercial Print Production required a big-size UV flatbed machine is the best option. Here the whole sheet is printed at a time.
Big sizes flatbed machines are available in 96″x96″', 48″x96″, and 20″x30″. It required a commercial space for printing with ventilated space as per industry standards. Once the entire advertising sheet is printed then it is cut into the precise order sizes with Router Cutting Machines & Laser Cutting Machines if required.
People also search for Laser Printing & Laser Cutting Machines
5 Topmost Reasons, LED UV Printer Demand Increasing Day By Day
The UV printing machine is able to print on the small, big size, thin and thick products with an adjustable printing head vertically up to 3.14". Printing product range wider made LED UV printers popular worldwide.
UV printer produces a printing color scratch-free, tactile effect, eco-friendly, and printable on light & dark backgrounds. White color ink tank help to add a background base of white to more visible colorful printing on a dark base.
A long time period fading ink.
Easy to apply double or triple coating in the same place to make a heavy ink impression on the rough surface.
Automated head adjusters with the help of an inbuilt sensor keep your head always safe.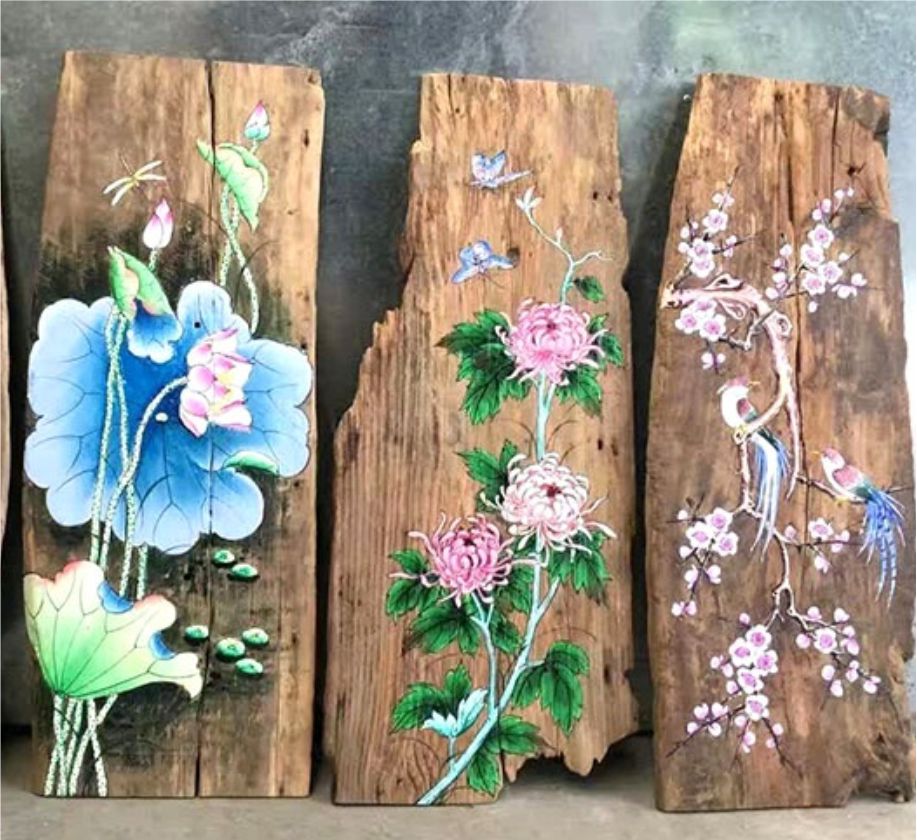 Difference Between LED UV Printer and Solvent Printer
Most of all large format inkjet printers fed solvent ink that contains a lot of organic components. To make the ink dry fast is attached to the high volt heater to dry the print faster which releases a lot of toxic gas and harmful VOC which is a waste of power, harmful to the environment, and leavings.
Special UV Inkjet Printer used dissolved ink (pigment ink), after printing it dries out within a second with the help of applying UV led light, there is no organic compound in the pigment ink it is man-made ink. Approx 100% of ink volume is consumed in printing. It does not produce any harmful chemicals and saves your power and time.
15 Benefits of LED UV Printer Uses
Your product might be made in any shape like a Cylindrical (Pen, Tubelight, Sipper Bottle, and Injections), Rectangle (Catalogue, Brochure, Sunboard Printing, Notepad Covers), Circle (Ball, Cameras, Cricket Ball ), etc. can be printed through this process. Even UV Ink can be applied on food-grade products, and medical equipment, due to its 100% eco-friendly ink behavior.
UV ink gets dried as soon as it comes into contact with LED light.
The inks used in printers almost are 100% eco-friendly.
Vivid and vibrant color printing, and can be re-printed to make the color denser.
0% emission of VOC.
UV printing produces an enhanced printing quality of the image and text printing and even gives a tactile effect.
Available variable droplet size printing that makes your print quality embossed, eye-catching and rich imprint on the rough substrate.
The printing head can be adjusted the thickness of the substrate up to 3.14 inches.
No ink absorptions on the material surface that's why the printed product surface looks equivalent to color saturation.
LED UV printing applications save your energy because no additional heat process appliances to make dry print products as well as solvent printing machines.
UV printers facilitate variable data printing (luxury product)
Bulk production can be set up by line production by adding a conveyor belt.
Fast print production with premium quality.
No required min. quantity to run the job.
100% use of UV ink, no waste in the form of solvent or other stuff.
Printable almost all types of substrates.
CYMK and WW ink tank printers make design printable on light and dark color backgrounds.
At least 20% less UV ink consumption compare to traditional printing ink.
Lower LED power consumption compare to other printing technology drying products.
The Uniqueness of LED UV Printing Machines
UV printer sets apart from other inkjet printers available in the market due to the instant drying process compared to inkjet digital printers as well as eco-solvent & solvent printers. Choosing UV printing machines to provide consistency of quality printing products in luxury printing items could be a boon in your business to entice your customer and market competition.
Fast Drying UV Ink Concept: "Sooner the LED light comes in contact with UV ink, a photochemical reaction happens instantly between liquid ink and LED light that produces a result from liquid ink to hard solid ink layer in the substrate"
UV ink does not dry until passed through UV light. 
Almost all types of the substrate can be printed through LED UV printers including high-glazed ceramic and glass also feasible to add pre-coating before printing.
LED UV Printer Maintenance
LED UV printers are low-maintenance printers. The print head is a major part of an LED UV printer. You need to clean the print head regularly and use recommended ink. Your printer can run for a long time period. Most of all LED printers have an auto head clean option that makes it easy to head clean.
The Main Pain Point of LED Printer
Buying an LED UV printer decision has a win-win situation in the years 2022 and beyond. There is a little amount drawback rather than the high-risk solvent printer.
UV ink does not dry until it is in no contact with LED UV light.
Very high glassy stuff like mirrors and heavy metal stuff have a lower ink adhesion.
Ink is a little costly.
F. A. Q.
Why UV printing business is on rising rather than others?
UV printers are capable to print almost all types of substances and material made of, the reason the printer technology used do not produce heat and organic components which enables you to print a vast variety of products even eatable and heat-sensitive stuff.
More than 100s products even if it is product customization or personalization gift items, Do not require MOQ for printing. Large range of LED UV printer
How long is LED UV print durable?
UV print is much more sustainable rather than laser and inkjet prints. UV printed ink sustainability is more than 10 years and can be used indoors or outdoors and is 100% eco-friendly.
What are the LED printers used for?
LED Printers are used for digital printing on the substrate as well as laser printers or inkjet printers. LED printers do not produce carbon, and heat during printing that's why heat-sensitive materials like plastic, wax, and many more products can be easily printed. The special mechanism of ink drying technology of LED printers makes them unique.