How different are DTG printing machines from other fabric printing machines?
DTG Printing Machines
DTG printing machines work as a digital printing technology. The most engaging part is that the printing machine has the inbuilt mechanism of an inkjet print head & flatbed space to place easily garments on it. As the DTG machine denotes that DIRECT TO GARMENTS prints.
DTG printer is well known for its best performance on both Dark and Light Fabric. Most of all regular printers facilitate only light fabric printing.
Water-based pigment ink & environment-friendly printing.
Printable on light & dark fabrics.
Reduce labor costs.
Instant Printing has no additional setup cost.
Print-on-demand service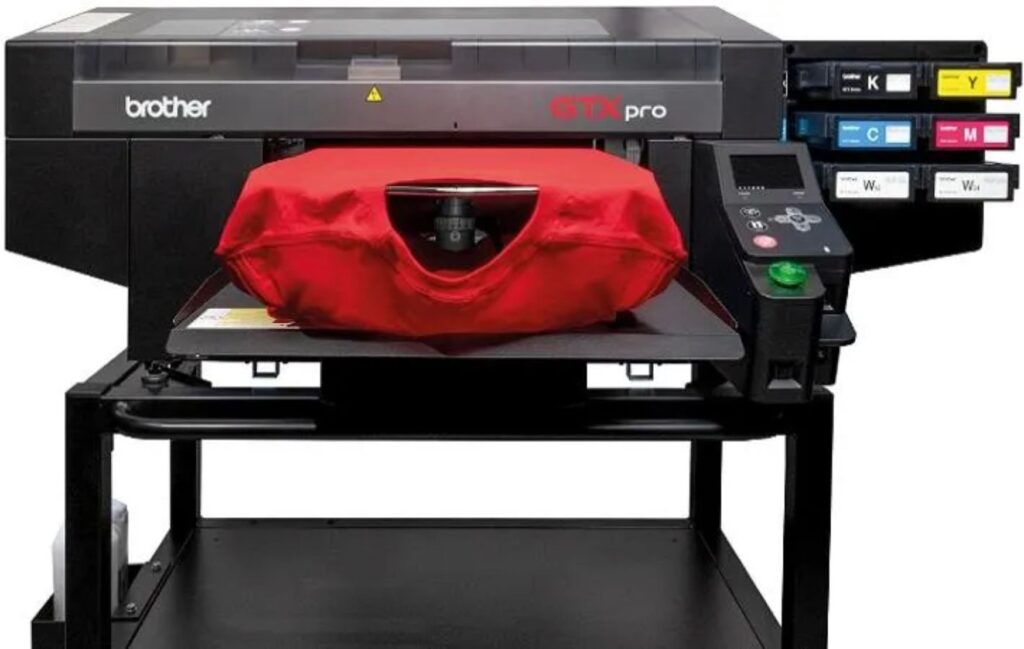 Major Difference Between DTG and Other Fabric Printing Machines
There are other printing terms on the garments like screen printing and sublimation. Each printing terms have pros and cons but DTG printing machines work best on both dark and light fabric.

DTG printing machine history
It was time in 1996 when DTG printing was developed and patented in the Year 2000 in the US by the Brother Printer Manufacturer. The first DTG printer came to the market for selling out in the market from the year 2004 by brother. Printing ink used on the fabric is water-based. Later on other printer manufacturers like Mimaki, Canon, HP, EPSON started making.
The uniqueness of DTG Printing Technology
DTG printer has 7 inkjet tanks that make it easy for your dark fabric to print bright color. These inks are C, Y, M, K, LM, LC, and W. Their alphabet denotes as C-Cyan, M-Magenta, Y-Yellow, K-Black, LM-Light Magenta, LC-Light Cyan, and W-White color.
DTG print longevity
DTG printing is the best in terms of printing on dark and cotton fabric and connectivity. Design and graphics even very small gradients can be printed in detail.
DTG Printer and Its Printing Cost
When it comes to choosing which printing method is the best quality printing machine cost is a major factor. Along with quality printing cost and printing machine price, both are in favor. If I compare it to screen printing for a single tee printing DTG printing is the cheapest option because it does not require a basic setup cost as well as Screen Printing. For bulk printing t-shirts DTG printing method is costly.
Drawback DTG printing
DTG printing falls into rich categories if your client base is quality t-shirt users go for it. If not so these printing machines could be harmful to you. DTG printing machines printing heads are very costly, in cause it is not in use it may be damaged. Once it is damaged hard to purchase it.
Expect high-quality print, DTG printing machine not a saturated
In India, according to our experience and survey, more than 80% of t-shirts are used t-shirt price range of Rs. 200-300/- and 10-15% up to rupees Rs. 500 and 5-10% people are more than Rs. 500. You have to think about whom you are providing t-shit printing services.
Basic quality fabric & DTG printed t-shirt price goes above Rs. 500/- each. This is why expect high-quality print, DTG printing machines are not saturated in India.
How to keep running your DTG printer head safe?
Here are a few points to know to avoid printer head jams.
The printer has the software you need to clean the printer head regularly.
Use your DTG printer daily
Apply solvent cause you are not using 2-3 days
Keep cover your printer head while it is not in use
Check your ink tank regularly to keep ink in order.
How does the DTG printing machine works?
DTG printing machines work similarly to other inkjet printer. But there are a few unique points that make it used especially for direct printing on the fabric.
Before starting fabric printing pre-heat-treat it.
Place it in the printer flatbed and tight from all edges.
Rip t-shirt design in the printing software.
If your t-shirt fabric is dark base choose white color printing first on the background
After printing, the white base color follows the same as per the t-shirt design and the printer head starts moving till the finish.
These ink droplets are too tinny and easy to move into fabric fiber and look seamless.
After finishing printing, you need to cure the heat that makes your t-shirt color long last.