Here we will discuss in detail what is direct to film process, what is the dtf printer, the requirements of dtf supplies, and how to print dtf film step by step.
What is DTF printing? dtf refers to a "Direct Transfer Film", let's understand this technology in a simple way. There are various types of textile printing methods and each of them has some pros and cons in terms of print quality, print durability, and print cost-effectiveness. As well as sublimation printing, vinyl cut & heat press, screen printing, puff printing, etc.
There is no single textile printing application that can solve printing to all types of fabric printing requirements. Only Direct Transfer Film Printing Technology might solve almost all types of textile printing requirements of the majority of fabrics.
DTF printing is based on an inkjet printer that prints directly pet films (sheet form and roll to roll) and makes them able to transfer to the fabrics and leather.
DTF Printing is a Revolutionary and Emerging Textile Printing Method.
This textile printing method might be an alternative to the DTG Printing method.
The DTF printing makes print circles faster.
Very cost-effective, high detailing print quality even for a low volume.
DTG printing applications works for both dark & light background and any type of fabric even with very low printing cost.
Print quality as well as 600-1200 DPI.
The reason for the very cost-effective print is that printing raw materials used in a very low volume produces high-quality output and fast print turnaround.
DTF printing has a simple and fastest textile printing technique that involves an inline printing system, from printing on PET film, applying powder adhesive, melting, ink curving, re-winding roll, etc. It does not complicate like vinyl print, cutting, and weeding the excess vinyl and then transferring on onto the fabric.
The film used is known as a PET (Polyethylene Terephthalate) film with heat resistance quality roll.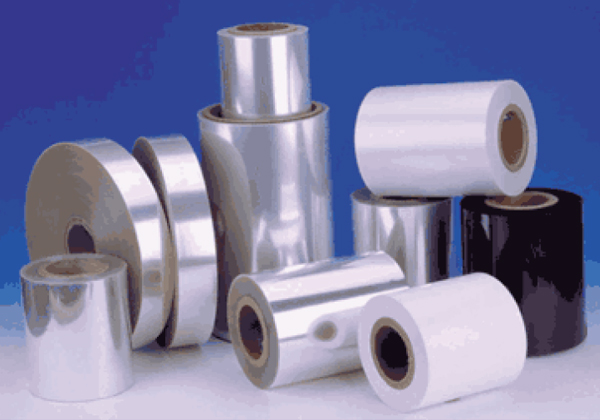 "A custom t-shirt creative/design is digitally printed through a DTF printer using DTF ink (CYMK INK FORMT) onto the PET film (matte coated side) in the mirror image meanwhile, an adhesive powder is splashed evenly onto the printed wet ink on PET film with the help of an automatic powder shaker mechanism and collected excess adhesive powder separately to reuse and finally PET film gets passed through the oven at 100-110 Fahrenheit temperature to melt powder/curing ink on to PET Film to ready transfer on the fabrics"
After cured ink on the PET film is ready to transfer on any type of fabric-made garment even Light Color or Dark Color Background & Any Type of Fabric at 235 Fahrenheit temperature.
Types of Fabric DTF Printed
DTF print can be applied to almost any type of stuff that can face temperatures 150-175 C0, which might be hard and soft stuff. Cotton Made T-shirts, Polyester, Poly Blend, Terrycloth, and Nylon (t-shirts, Hoodies, Jackets & Sweatshirts) are the most printed fabrics.
Note: DTG Ink and DTG Powder both leave effects on the fabric. Ink as well as the form of design & adhesive leaves a soft feel & touch.
DTF Printing Technology Step By Step.
DTF printing application is simple and faster compared to DTG and Sublimation Printing. DTG and DTF both are types of digital printing methods but the difference between the DTG printer and DTF printer is that the DTG printing application directly prints on the fabrics whereas DTF printing is firstly done on the PET film and then transferred to the intended fabrics using heat transfer technology.
DTF printing is more noticeable compared to DTG printing.
In DTG printing, ink droplets pass into the fabric, and in DTF printing ink is applied in the way of a very thin layer to make a strong bond with the fabric with the help of adhesive powder.
DTF printing technologies have a lower ink volume consumption compared to DTG printing applications.
DTF printing services are accomplished in a few important steps.
DTF Printer: These printers are of high quality and can produce up to 1440 DPI prints. Automated print head height adjuster technology. To keep your DTF printer running long-term need to be maintained most of all printer are self-head cleaner that protects against head jam. Once the printer head clogs you may to hundreds of dollars to purchase a new one.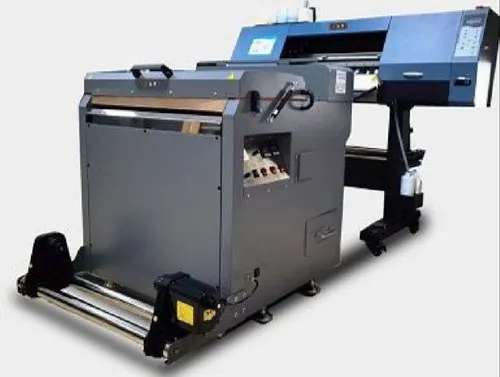 "DTF printing required a mirror image of the actual image in a white color layer over the intended print design"
DTF printer software: Special software for DTF printing plays a major role to adjust the color balancing of the design CYMK color and W (white) ink tank. For dark base fabric needed to apply white color background to make the color print visible. The label of ink, color proof, and ink drop size in the printer help to manage printers.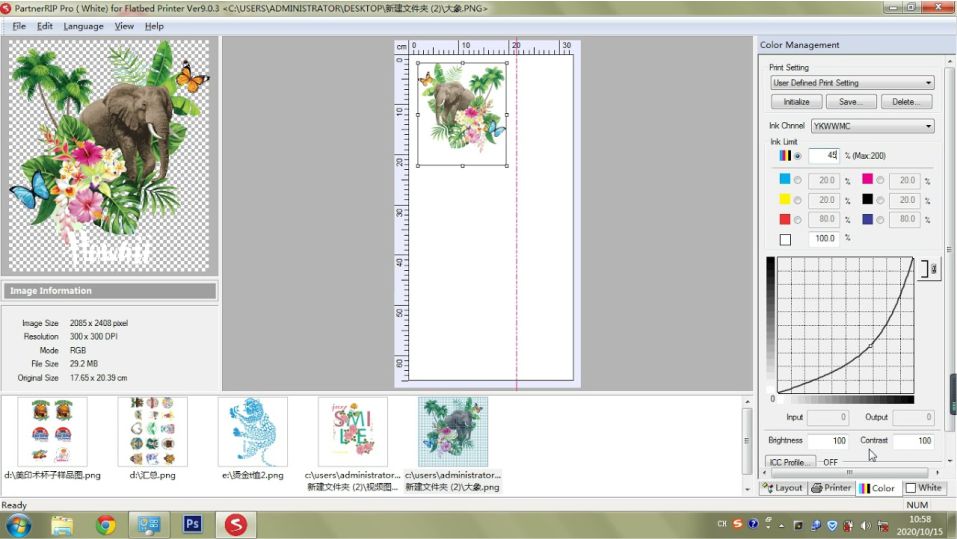 DTF Transfer Film: It is a heat-resistance transparent plastic coated with a very thin layer (75-100 microns) that helps to transfer content to the fabric. basically, DTF film work as a printing content carrier to the fabrics. DTF transfer film comes in a sheet A4, and A3, and in rolls. The size of DTF rolls is 13″, 24″ wide, and 325 feet long to choose the best fit for your DTF printing machines. DTF films come with hot and cold peel-off character types.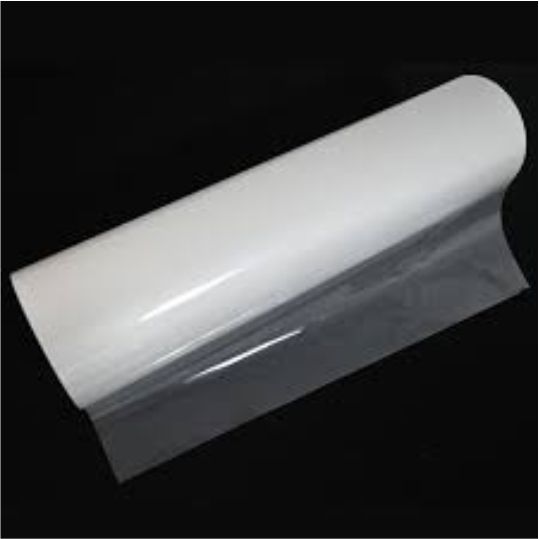 DTF Printing Ink: It is water-based ink and is used in a concrete state. Due to cost-effective DTF printing demand is increasing day by day. DTF printing ink cost comes 1000-1200/-per liter compared to DTF printing ink goes more than 10,000 per liter.
Automated Powder Shaking Mechanism: This process helps to apply the powder evenly on the printed pet film and restores the excess powder in the stocks.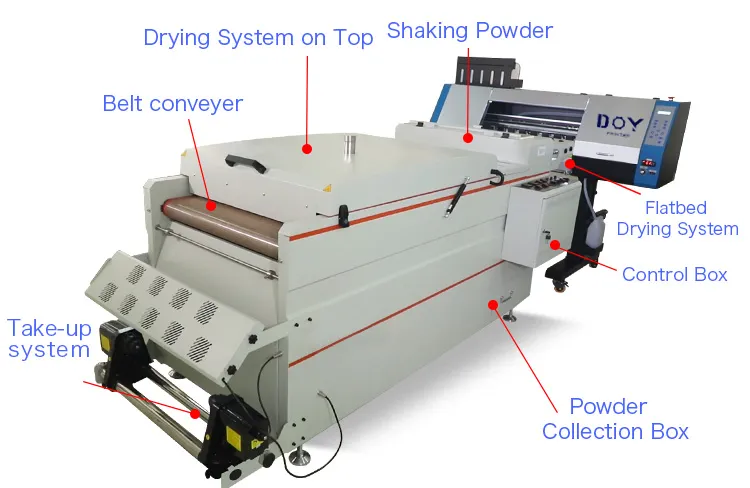 Curing Ink Oven: After getting printed on PET film and applying adhesive powder it gets passed through an oven having a temperature of 150 degree-160 degrees for a 10-15 minute ink properly dried out.
Automated Re-Winding PET Film: After dry-out properly PET film is re-winding in the roll form through the automated machines and is cut into the order size to transfer onto the intended fabric with the thermal heat transfer machine.
Adhesive Powder: An adhesive powder is applied to the printed wet DTF ink and gets passed through the heat process where ink properly dries out and excess white adhesive powder is gathered separately to reuse.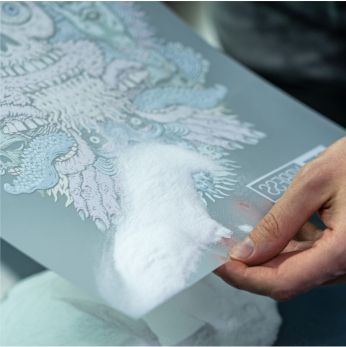 Heat Transfer Machine: DTF printing technology required a heat transfer machine to cure the ink at 180 t-200 degrees as well as fabric spl required for the time period of 10-15 seconds.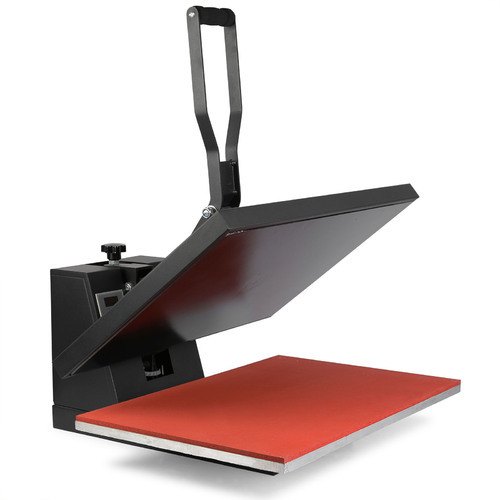 DTF printing technology in a few step
An automatic powder shaker is a great option for low-volume printing. No wastage of adhesive powder once fresh powder is used and the remaining powder is collected automatically for reuse.
Buy the best converted DTF Printer
EPSON L118 is the best DTF printer.
DTF Printing Advantages
There are a lot of advantages of DTF textile printing.
This printing is applicable to dark and light background fabrics.
DTF printing machine works faster rather than other types of t-shirt printing applications like vinyl print, cut, and weed excess vinyl then transfer onto the fabric and screen printing.
DTF printed design produces sharp and crystal clear prints.
Low cost even low print volume.
Adding more color design does not affect printing costs but likewise screen printing applications.
Colored and white both types of ink can be printed at the same time.
Able to print a single large design.
Print resolution up to 2880 DPI.
Q. & A.
How to modify an inkjet printer to a DTF printer?
Usually, DTF printers are inkjet printers. Having a 6-color ink tank. These 6 Tanks are converted into CYMK ink tanks and the other 2 tanks are used as white ink tanks. White ink consumption is higher comparatively rest all colors. EPSON L1800 and EPSON L805 easily can be converted into a DTF printer.
If you are already running a customized t-shirt printing shop easy to shift DTF printing.
How much does a DTF printing machine cost in India?
DTF printing t-shirt business involves a pretreating machine, PET film roller, ink curing heat-press, and printers. There are different sizes of DTF printers choose the best size that fit your business work volume size.
A3 size and A2 size printer prices start from Rs. 50,000 -5,00,000. DTF printing business-main cost is printing machines and using UV ink.
3 Top DTG Printer
1. EPSON
2. MIMAKI
2. CANON
How does the DTF printing machine work?
DTF printing machines have inkjet print heads with additional white color (W) dtf ink except for the CYMK ink tank. Once the dtf ink is digitally printed on the PET film, an adhesive powder is applied to the wet ink and sent into the oven for powder melting. Using a heat press machine the content is transferred to the garments.