Buy 5 Best DTF Printers 2023
DTF printing is an Emerging Textile Printing Business. The good thing about DTF printing is that you can print on light or dark both color fabric even if the substrate is cotton, leather, nylon, polyester, or synthetic fabric materials. DTF printing per unit cost comes 50-70% low compared to the other types of printing applications (DTG Printing & HTV Vinyl Heat Press).
Any type of fabric that can bear pressure & temperatures between 120-150 degrees celsius easily can be printed.
The DTF Printer works with CYMK & WW ink format & piezoelectric technology based which enables printing on dark and light substrates with easy-to-readable vivid color texts and images. The second good thing is that DTF printing does not require to weed letters from the DTF film likewise HTV vinyl sheet from the heatproof carrier film.
"DTF (Direct To Film) printing principle is based on digital inkjet printing on thermal proof film. Here the role of PET film is used for transferring ink (design printed on the PET film) on the fabric through the heat press. Here a PET film works as a mediator at a temperature between 160-180 Fahrenheit."
Through the DTF printing method, you can print on any material fabric like cotton, polyester, nylon, woolen, or leather fabric with multi-color high-quality text & images.
DTF (Direct to Film) Printing Equipments & Raw Materials
If you are looking for a DTF printing business, you have required some basic types of equipment and consumables items.
Computer or Laptop Device
Creating a design to be printed on fabrics required a laptop or desktop computer with the installation of the design software which is a basic need to connect with a dtf printer.
DTF Printer (Printer, Powder Shaker, Vaccum Plate, Oven, Heat Press)
EPSON L800 & L805 are a4 converted DTF printers used for sheet feed desktop printers with 6 ink tanks.
EPSON L1800. A3 size printers for roll-to-roll printers.
It depends on you whether you are choosing an industrial dtf printer with the conveyor belt & roll to-roll commercial dtf printing or a desktop dtf printer for customized gift printing. To cure the adhesive powder oven machine is mandatory for it.
PET Film
Pet film is used for content or design printing, it has one side matte and another side glossy coated finish with a thickness of 0.75-09mm thick, and text or graphics are printed mirror look on a matte finish side. Pet film is available in sheets and rolls in both forms. Ideally, A4 sheet & A3 are ideal for desktop dtf printers. 24 inches and 40 inches wide and 100 Mtr. long roll commonly used in industrial dtf printers for roll-to-roll printing.
Note: Not all pet films are able to print dtf ink, DTF pet film is a special type of coating that allows accepting printing ink on it, and coating helps to transfer ink on the fabrics.
Hot Melt Adhesive Powder
Making a bond between print and fabric using heat-sensitive hot melt adhesive powder. The better quality adhesive powder has the strongest bond and print lost longer even multi-washes. The temperature for the best bonding between print & fabric depends on the quality of the fabrics. Cotton fabric and polyester are required as well as 180 and 150 Fahrenheit temperatures.
DTF Ink
It is a pigment ink specially formulated for inkjet printers in CYMK format. It performs best for almost all types of fabric and leather. Due to cost-effective ink formulation, dtf printing cost comes very low.
Print Head Cleaner
To keep your dtf printer head life long service you are required. a dtf cleaner does not even keep your print head neat & clean even helps to print full-color printing and avoid white stripes.
RIP Software
Adjust color droplet size and dtf ink thickness for printing required specific software. Even if you are skilled in design you can common from Corel and other design software.
Heat Press Machine
Transfer print on the fabric required a heat press machine. You can manage the appropriate temperature for your fabric behavior from an inbuilt heat press machine temperature meter. There are available in different sizes you can choose from for your required sizes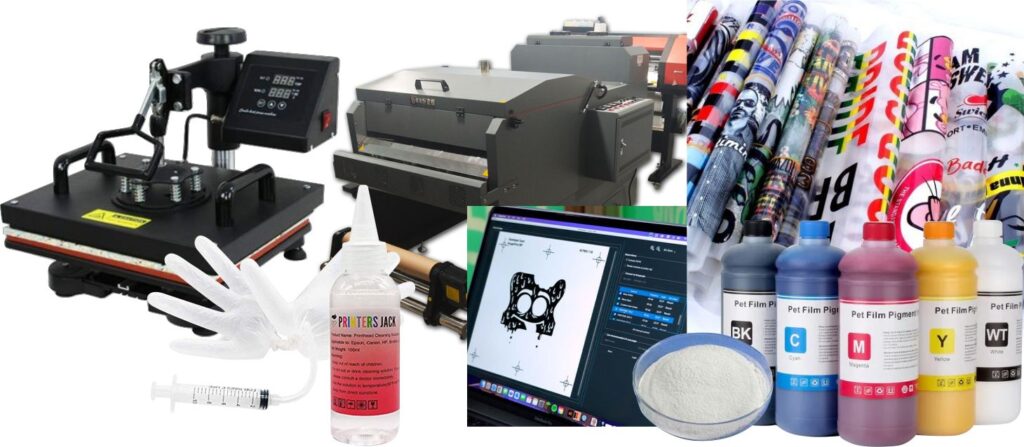 Printing Machine brings you the best 5 DTF printer 2022. Choose the best match for your business volume and quality perspective to meet your custom requirement.
A. Desktop DTG Printing
These desktop printers are the best in my knowledge and personal experience. A few of them are currently in service at my print store. Desktop DTG printers are good for small-size print, and print-on-demand services.
1. L1800 DTF Printer
EPSON L1800 converted DTF Printer for roll-to-roll & sheet feeder printing.
This printer enables printing in A3 size, roll-to-roll, and sheet-form media.
A maximum media width of 13″x19″ sheet form and 13″ wide and any size in length roll to roll print media.
The printer has 6 ink tanks, respectively CYMK & WW. "C" for cyan, "Y" for yellow, "M" for Magenta, "K" for Blank, and "W" denotes white color.
Low maintenance cost.
Photo quality print
Recommended using a 40% humidity atmosphere as higher temperature leads to head clogging.
L1800 DTF Printer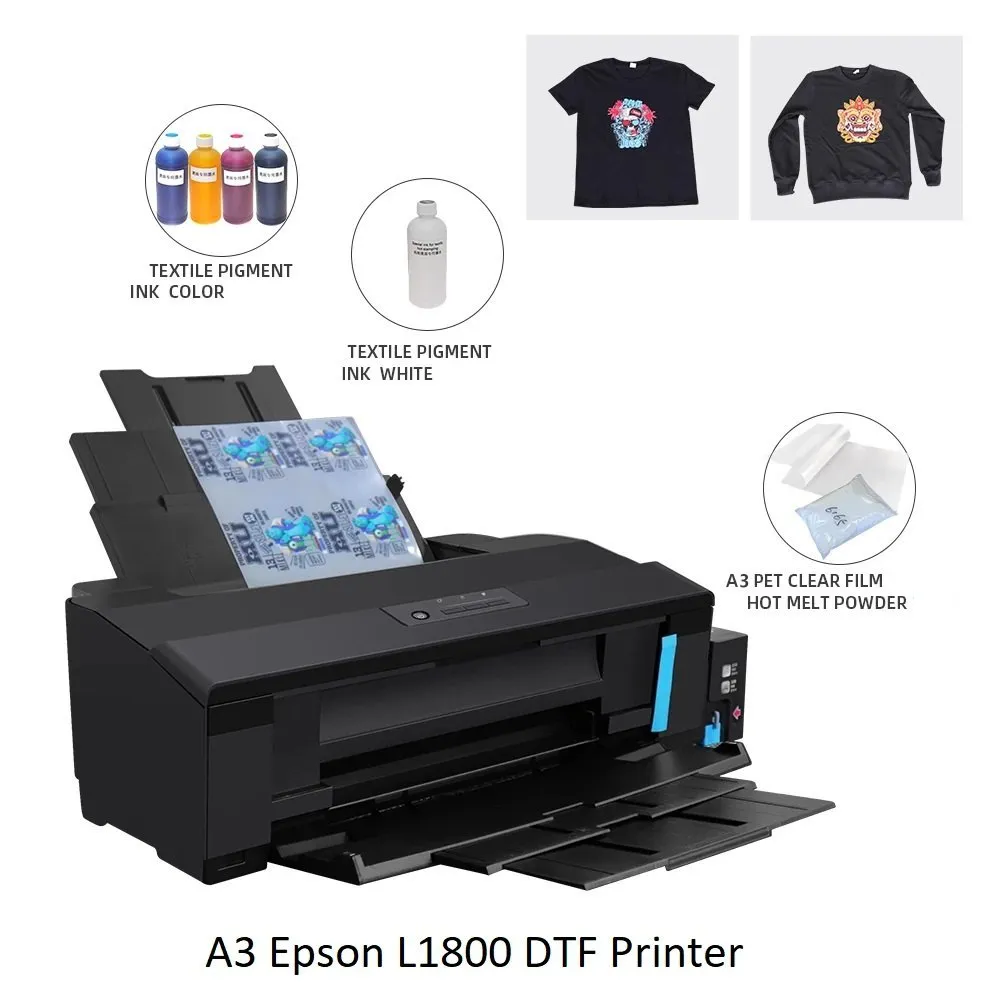 It is a budget printer for low-volume & high-quality printing.
The printer cartridge is very easily refillable even if you can refill it yourself.
Low power-consuming printer.
Works best at Acrorip Software to control the ink layer etc.
USB and Wi-Fi connectivity.
Pros & Cons
Pros
Affordable dtf printer for new business.
High-quality prints
No requirement for more space
Easy to refill ink tanks.
2. P600 DTF Printer
P600 DTF Printer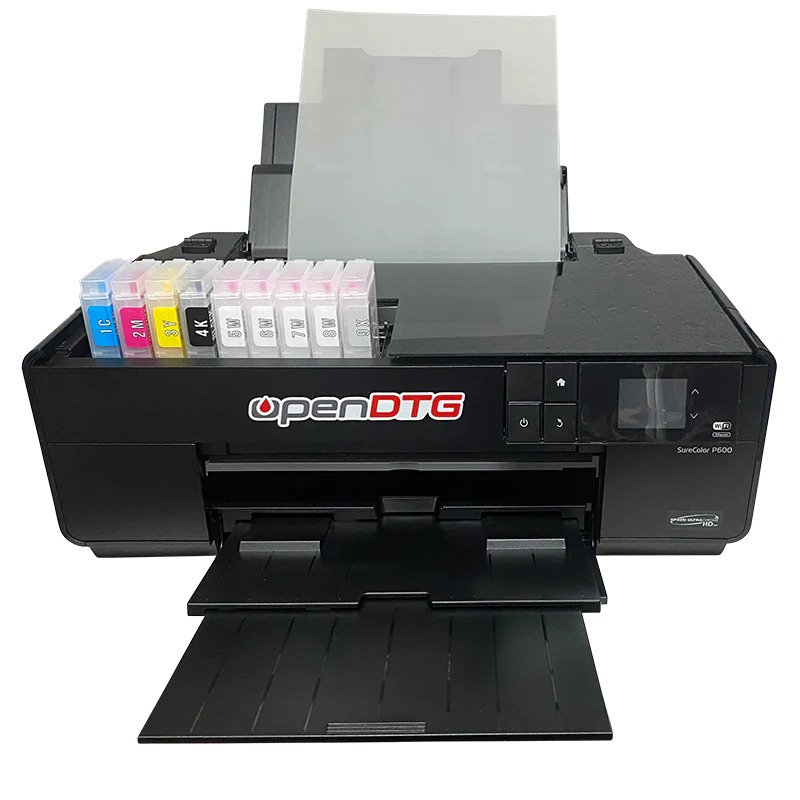 9 Cartridge
Printer Resolution 1440×5760 DPI
Ethernet, Wi-Fi, and USB connectivity
EPSON P600 is a new Epson Printer Model with a high speed compared to the EPSON L1800. The printing speed is overall 3 times more than the L1800. All specifications are the same. You can buy if you have sufficient custom fabric printing orders. The higher the ink tank better the print quality.
3. DTF Printer 12H2
DTF Printer 12H2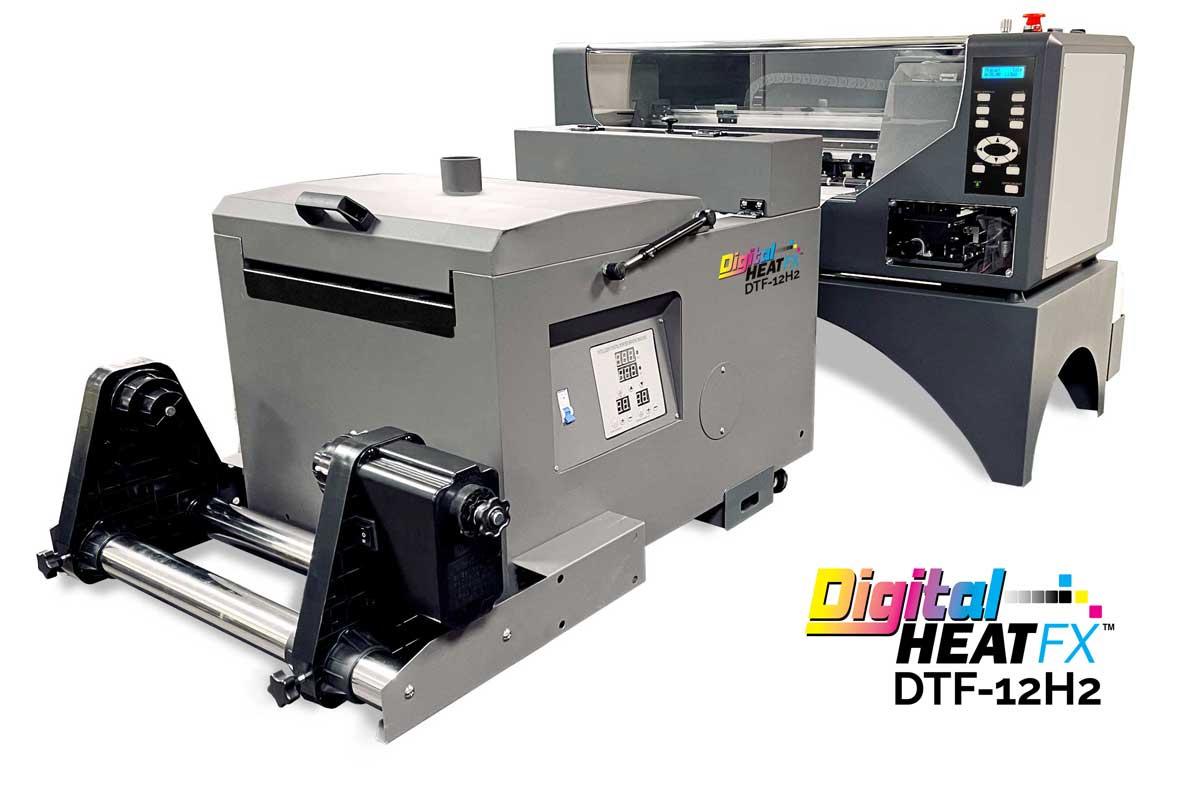 it's Affordable – no more than a standard Direct to Garment printer, and a fraction of the cost of high-volume DTG options
It's Fast – Prints around 50, 8"x10" transfers an hour!
It's Easy to use – Comes with full training & support
It's Compact for a commercial high-volume machine – It fits through a standard door!
The printer has a dual print head design that lays down the colors in a blend of CMYK colors with the first printhead and then lays down a white under base on top of the colors in perfect alignment so that you do not have any white peeking out.
The adhesive powder is then automatically added to the back of the transfers. It's the unique powder adhesive coating that gives DTF prints their signature soft touch.
Instead of thick transfer films, or vinyl, the Direct to Film Process has only two ingredients. The ink, and a thin coating of powdered adhesive.
The DTF printer uses PET transfer film which is translucent so you can see the design underneath the film when you later heat-press it onto the garment. The films used with the DTF-12H2 are both roll-fed and designed for a hot peel.
Printing Ink & Brand
Kodak, Fuji, and Toyo are popular brand names for ink quality. DTF printing ink cost is very low compared to the DTG and UV Printing ink. Ink printing consumption comes approx 20m per square meter also depending on the Overall white ink consumed the maximum as compared to others.
DTF Printing Machnie Kit
100 meter PET Film 13″ wide, 6 bottle Ink each bottle have a 1-liter capacity, 1 Oven and 1 Pcs DTG printer, Rip software,
DTF Print Run Turnaround
DTF printing is a fast printing method you can get a ready t-shirt print within 30 minutes.
DTF Transfer Instruction
To get the best dtf transfer result follow these instructions
Press the fabric to make the fabric surface even
Once you heat press 15 seconds long let it cool down and remove the film. Apply Teflon sheet over print & again apply heat for 15 seconds to cure ink properly.
DTF Printing Advantages
Very cost-effective
Easy to wash.
Long lasting print
Small details or gradient color printing.
Easy to print jpeg, png no tension to peel, and weed-like HTV vinyl print.
Printable on a large variety of substrates.
Low investment printing process.
The biggest drawback of a DTF printer is, head clogging. The main cost of an inkjet printer involves the printer head once the head nozzle is blocked very hard to restore. Ultimately you have to buy a new printer head.
Difference Between DTF Printing & DTG Printing
Both printing applications are used for Digital Textile Printing but have huge differences in printing cost, hand feel, longevity, and popularity.
DTF Printing Process Step by Step
DTF printing is so simple to work. Let's start DTF printing in easy steps.
1. Create a Design
First of all, create a design with particular design software like InDesign, Photoshop, or CorelDRAW software. You can add images, text, or gradients with no restrictions.
2. Feed DTF Film Sheet or Roll
Choose the appropriate media for dtf printing. Make sure the matte-coated side will be upper to accept the print and the downside glossy.
3. Rip the File and Send Print Command
The DTF Printer has a CYMK and KK ink tank. Once a CYMK color is printed and a special white color is grounded over the print film
4. Apply Adhesive Powder
Once a design is printed on the pet film apply adhesive powder on it either by powder shaking machine or manual evenly on the whole print and remove
5. send it Feed the dtf pet film roll or DTF roll to the roller and send the file to the printer
5. Apply Sooner the print finish on the pet film applies the adhesive powder evenly and send it to the oven at a temperature of 60 Fahrenheit powder properly melts on the film
Start Software and Rip File
Start print run
Sooner the print dries out apply adhesive rubber powder to the printed PET film
As the PET film with adhesive powder passes through in the ink curing oven powder melted on the PET film.
Melted powder pet film is restored or rebound
Cut the pet film into the order size
Place the object to be printed on the flat heat press machine and set the temperature & powder curing time.
Keep your eye on the time counter
The ideal temperature of DTF printing ink transfer is 180 degrees Fahrenheit and the curing time is 10 seconds.
Important Key Points of DTF Printing
To produce better print quality notice down important things. DTF printing is a rubberized feel & touch.
If you are applying a higher temperature required producing print results is very hard.
Always keep your DTF printer head clean.
Use better quality ink to enhance your printer head life.
Q. & A.
What are the best tips to prevent clogging?
1. Getting printed out daily is the best practice. In the case of the rest of the printer's suck ink is automatically before getting printed out.
2. Apply head cleaning chemical every day after finishing all print work.
What is the warranty or guarantee period of a converted DTF Printer?
Ans. A few brands like EPSON or CANON do not recommend converting into dtf ink printing, once a printer is converted into a DTF printer, all the warranties, and guarantees of the printer have lapsed.
What is pet film?
Pet film is a type of translucent plastic sheet used to carry ink from the DTF printer to the heat press machine. Pet film's translucent color help to place content o the right location. It is a heat-resistant film that can withstand up to 300-400 Fahrenheit during heat transfer.
How many washes stand with dtf printing?
DTF printing stands with more than 40 washes. highly recommended do not use brushes and dry clean,